Water Leak Detection Northamptonshire - Central Heating, Water Mains, Swimming Pools & More!
Here at ADI we work on water leaks for our customers from all over the United Kingdom and we've seen that most people are struggling more financially than they have done in years. That's why we're baffled when we see any home or business that either know or suspect they have a water leak and refuse to do anything about it. We've been offering our leak tracing and repair service to our customers in Northamptonshire for almost a decade now so we've seen just how much money people can waste by avoiding doing anything about their leak.
Nitrogen Hydrogen Gas Tracing Systems
Gas Leak Detectors
Pipe Tracing Equipment
Thermal Imaging Cameras
Snake Cameras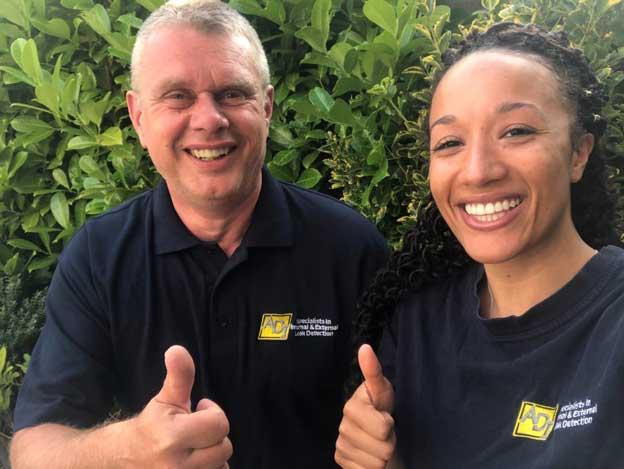 When you first come to realize that you have a leak somewhere on your property, it can be worrying that the repair cost will be high, and that additional damage to your property will be caused as a result of the repair. It is important that you do not ignore the leak. Call ADI straight away and we will arrange for one of our engineers to visit. We can detect both internal and external leaks, either above or below ground, without digging holes or causing other damage.
We are more than happy to quote on all types of leak detection work including:
Industrial and Commercial Leak Detection
Insurance Related Work
Residential and Domestic Leak Detection
We understand that people are naturally worried about damage to their property. We only send our engineers who have completed an in-depth training cause and are fully qualified to detect all forms of leaks including:
Leaks inside Walls
Central Heating System Leak Detection
Water Mains Leak Detection
Swimming Pool Leak Detection
Under Floor Leak Detection
Pipe Tracing
Leak Detection in Northamptonshire
ADI are able to offer their services to customers living in Northamptonshire and the following areas too:
Northampton
Kettering
Wellingborough
Corby
Brackley
Daventry
Rushden
Towcester
Water Leak Detection Throughout Northamptonshire
A Booming British town with a historic shoe-making industry.

Tenpin Northampton. The Tenpin Northampton is one of the best venues around town to sweat it all out and enjoy the best time with your family and friends. This bowling alley is highly recommended as it can cater to everything you would need. So if you want to reserve a room for your family, you can do it. From bowling lanes, pool tables, table tennis, and a wide variety of great food and drinks, this has everything you would need to have a fantastic night.

Salcey Forest. Situated between Northampton and Milton Keynes, the Salcey Forest is a great picnic area as this woodland area offers a relaxing and peaceful setting for the entire family. They also have a café inside the forest that has a family-friendly atmosphere to cater food for all ages. Plus, you can walk your dog in this park, too, as they allow it.
Hunsbury Hill. A few miles from the heart of the town, you will find Hunsbury Hill. In this area, you can feel that old vibe wherein you can see an old fortress and fort. This spot has a lot of things to offer as well, and they have barbecue areas, picnic tables, and a nearby café that offers breakfast meals at a lower price. Ideal for families, walking your dogs, or ramblers fascinated by nature and wildlife.

Abington Park. Abington Park is one of the oldest yet most beautiful parks in Northamptonshire. You can be instantly in-loved with this place as it is full of greeneries and wonderful people. You can also set up your picnic and bring some delicious snacks. A day at this park is quite a fulfilling experience, to say the least.

Northampton Museum and Gallery. The Northampton Museum and Gallery showcases the rich and proud cultural heritage of its loving town. Here, you explore and discover various displays and historic moments wherein it established the town as a prime destination in England.