What is Acoustic Water Leak Detection?
Acoustic leak detection is the process of tracing a water leak using a highly sensitive ground microphone to listen for the sound of escaping water from pipes.
We use highly sensitive ground and pipe microphones / acoustic sensors to magnify the noise of any leak. 
This hi-tech method delivers a reliable, data driven and precise solution, without causing any damage or destruction to your property.

Acoustic leak detection is just part our our overall leak detection process here at ADI – the market leaders in professional non-invasive leak detection services on water mains, swimming pools & plumbing.
Our engineers have knowledge and experience in all forms of leak detection technologies – giving us a 99% sucess rate in finding hidden water leaks!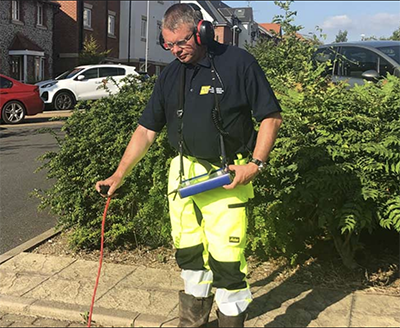 Underground Leakage Detection With Ground Listening Devices

We use ground microphones to help find the source of a leak because when a pressurized water pipe leaks and the water escapes, it causes the pipe to vibrate. The sound of the pressure escaping is what allows us to pinpoint the leaks location.

It is the sounds or vibration that is transmitted along the length of the pipe that we use to locate the source of a leak.
Our state-of-the-art ground microphones help our leak detection engineers find leaks every single day. We invest in the highest quality acoustic leak detection equipment to ensure maximum performance providing us with reliable information from the acoustics system

A common misconception is that it is the more significant leaks which create the most noise, but in many cases, it is the smaller and more difficult-to-find leaks that can benefit most from our ground microphones technology. 
How Does Acoustic Water Leak Detectors Work?
Acoustic leak detection works by attaching a stopper to the pipe from which our engineers believe the damage originates. 
The stopper then opens and closes the valve with the purpose of creating a rhythmic pulsation that can then be picked up with the assistance of acoustic leak detectors used in the area above the pipe. 
We then place a microphone above the buried pipes to listen for the noise generated by a leak. As you might expect, wherever the sound is loudest, that is where the leak is detected.
Benefits of Using an Acoustics For Detecting Leaks
The main benefits of the Acoustic Leak Detection method are
Precision – We can pinpoint the precise location of any leak on water mains, swimming pools, plumbing systems and more meaning that your plumber can go straight to the source of the problem to carry out the necessary repairs.
No need for unnecessary destruction of the garden or driveway, meaning potentially significant cost benefits.
Speed – The Acoustic Leak Detection method is quick, efficient and cost-effective, meaning that your leak can be located and rectified in the shortest possible time.
Acoustics For Tracing Commercial and Residential Water Leaks

Acoustic Leak Detection works equally well in a residential property or in a large commercial building, so whatever your issue, building size or location. It works on the noise created by a leak, so the type of building or location is inconsequential. 
In our experience, acoustic Leak Detection is likely to be the ultimate technique to find your leak and is often the first choice of leak detection equipment for our engineers.

Used For Central Heating Leaks

Central heating system leak detection is the number one problem where hidden water leaks present themselves in residential properties. Acoustic leak detection is one of the best methods at our disposal for this tracing the source of the water loss!

Used For Water Mains Leaks
Such is the accuracy, range and efficiency of acoustic leak detection that it is often used by regional water companies to detect water mains leaks within their infrastructure and can be used on water mains supply pipes from your boundary to your property with ease. 
Acoustic (Ground-Microphone) – FAQ's
How Deep Underground Can You Hear a Water Leak?
This is a difficult question to answer as it will depend on the material under which the pipe is buried, whether it is concrete or soil. 
It will also depend on the depth of the pipe, as the deeper the pipe, the weaker the noise will be. Approx 2 meter in depth is typically the deepest we would be able to hear a leak using the latest technology. 
Through Which Flooring Types Can You Locate a Water Leak?
We can detect leaks under a lot of floor surfaces, both inside and out. 
These include Laminate flooring, wooden flooring, vinyl flooring, ceramic and tiled flooring, concrete, carpet, and even suspended flooring. 
Outside we can detect a leak under concrete, tarmac, gravel or grass and soil areas. 
Is Acoustic Leak Detection Suited to Finding Leaks on Long Underground Pipes?
Because sound can travel huge distances, ground microphones are a great option for our engineers on long underground pipelines. 
We also use a range of equipment including leak noise correlators & thermal imaging from drones to detect ground temperature differences!
If you are looking for the professional acoustic leak detection company in the UK, then call ADI Leak Detection on 0800 731 3843