Gas, Central Heating & Water Leak Detection Twickenham
When you're dealing with leak detection professionals you'll notice we don't need to dig or drill to find a leak
ADI are providers of a non-invasive leak detection service for Middlesex, including Twickenham, using the very latest in leak detection equipment and technology like:
Moisture Detectors
Snake Cameras
Thermal Imaging
Nitrogen Hydrogen Gas Tracing
Gas Leak Detectors
Each of our engineers has access to the type of cutting-edge technology that makes our truly unobtrusive leak detection surveys possible. No matter where the leak is on your property you can rest assured that our team can find it – even if it's buried deep underground. We also work to provide as little interruption to your work or business life as possible while still offering you excellent value for money.
ADI are regularly hired to work on the following:
Industrial and Commercial Leaks
Domestic and Residential Leaks
Insurance Work
All of our teams have been trained to a very high standard and have the qualifications to prove both this and their ability to work on any of the following problems for you:
Swimming Pool Leak Detection
Leaks Located Inside Walls
Under Floor Leak Detection
Water Mains Leak Detection
Pipe Tracing
Residents of the Twickenham and following areas are within the service reach of ADI Leak Detection in London:
Feltham
Fulwell
Hampton
Isleworth
Richmond
St Margarets
Teddington
Whitton
Even if your location isn't listed here don't worry our engineers can help you no matter where you live in the United Kingdom.
ADI stand ready to help resolve that leak problem once and for call – call us now on 08007313843.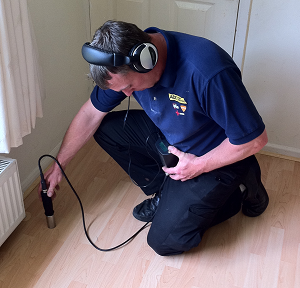 Our Client FAQ's
Which water leaks can you find?
We specialise in locating water leaks under floors, on central heating systems, on water mains, hot and cold water feeds. The list is almost endless, but if you have a water leak in a property then we should be able to help you – Simply give us a call on 0800 731 3843 to find out.
Are you able to locate an external water leak?
We have a specialist crew who pinpoint the location of external water mains leaks every day. Using a complete range of specialist leak detection tools, equipment and expertise we are able to accurately locate water on long and short stretches of water mains.
Are you able to repair my leak once you have found it?
Our team are all highly experienced plumbing and heating engineers, many of whom have been tracing and repairing water leaks for many years.
We are on most occasions able to provide a repair service for your water leak once it has been located, this will however depend on the exact location of the leak along with several other factors
Do you have any testimonials for your leak detection service?
Yes, we have over 140 reviews on Which trusted traders with a glowing 4.6 star out of 5 rating!
I am a landlord and my property is elsewhere in the UK, are you able to help?
Sure, we serve the majority of the UK from our base in High Wycombe, Buckinghamshire and via our network of engineers nationwide.
How can I enquire and have you come solve my problem?
Call one of our small & friendly team on 0800 731 3843 and they will be sure to listen to your problem and you will discover if we can help you.