Water Leak Detection Specialists In Eastcote
The Solution When A Plumber Can't Find Your Water Leak!
The Professional Approach
To Dectecting & Repairing Your Leak
We Aim To
FIND AND REPAIR YOUR LEAK ON THE SAME DAY
Are You Concerned That You Might Have A Hidden Water Leak?

We Aim To Find & Repair Your Leak In Eastcote On The Same Day!
ADI Leak Detection is the original specialist Leak detection company in the United Kingdom, and we will get to the bottom of the problem for you quickly. Worrying is not going to solve the problem, taking action is.
Watch Our Video & Discover How We Can Help You...
No matter if your water leak is on a Central Heating System, Water Mains, Hot or Cold Feed Pipe, Drains, your Swimming Pool or if your boiler is losing pressure then we are ready to help…
Central Heating Leak Detection
When most of our customers call us, they are worried and concerned because they believe they have a leak somewhere in their central heating system. Either the pressure in the system keeps dropping, or the heating won't turn on at all. Whatever the reason, our customers know they need professional help, and they know they need it urgently.

Leak Detection for Central Heating is the number one reason our customers call us. The good news is that we have the expertise, the knowledge and the specialist equipment to find your leak for you. And in most cases, you do not need to worry about the cost of our service because our trace and access service will be covered by your home insurance policy, although we always advise our clients to confirm this with their provider to avoid any nasty shocks.
Trace and Access
The insurance industry always provides its customers with a booklet of terms and conditions, and in virtually all policies, there is a section entitled trace and access. Trace and Access is industry terminology for the water leak detection process.

It is in the insurance companies' interest to find a leak as quickly as possible in order to minimise the scale of any damage caused as a consequence, which is why all good quality home insurance policies will offer Trace and access as standard.
Low Boiler Pressure
Most central heating and hot water systems use a pressurised system to force the heated water around the home. When the pressure drops, so does the system's efficiency, and unfortunately, when your boiler pressure continues to drop regardless of how often you top it up, this is a strong signal that you have some form of a hidden leak. The problem is that even a tiny leak can cause the pressure to drop - Have you ever opened a bottle of carbonated water and heard the air rushing to escape? This is precisely what happens when your central heating system develops a leak, but the source of these leaks is not necessarily obvious.

That is where ADI Leak Detection comes in. We use a range of specialist and, in some cases, proprietary tools to pinpoint the leak with absolute certainty. The biggest issue is finding the leak first; once we know where the leak originates, repairing it is typically a relatively straightforward process.
Swimming Pool Leak Detection
When you are looking at installing a swimming pool, very few people ever discuss or even think about what happens when the pool develops a leak. Unfortunately, with such a large volume of water and the ever changeable weather conditions in most cases when it comes to swimming pool leaks, it is likely to be a question of if not when. Our advice is always to be prepared with a reputable specialist leak detection company on standby.

At ADI Leak Detection, we specialise in swimming pool leak detection. We have PADI scuba divers who can enter the pool and search for the leak when there is still water in the pool. Our engineers frequently tell us that there is nothing better than finding a leak where other companies have failed. The biggest secret about finding a swimming pool leak is having a comprehensive understanding of how swimming pool leaks develop. ADI Leak Detection and our team of specialist engineers will find your swimming pool leak fast - Don't delay call us today.
Underground Water Mains Leak Detection
ADI Leak Detection is a specialist leak detection company, and wherever your leak is occurring, we can find it, even if it is in the underground water mains. Many homeowners are shocked to discover that they are responsible for any water leaks in the water mains. They wrongfully assume that the water company will cover it.

A simple rule of thumb is that if the leak is within the boundaries of your property, then it is your responsibility to fix it. Time is of the essence when it comes to underground water mains leak detection due to the sheer volume of water involved. The water can cause issues with the structure of your property and could even erode away the foundations. As soon as you have any inclination that you may need a water mains leak detection service , contact ADI Leak Detection on 0800 731 3843
Underfloor Heating Leak Detection
Underfloor heating is one of the best investments anyone can make to upgrade their home. Waking up on a cold winter's morning does not seem so bad when your foot lands on a lovely warm floor. Unfortunately, when a leak develops, it can be a considerable challenge to find where the leak is coming from. You do not want to lift any more tiles than possible, which is where our specialist expertise comes into play. In fact, using our services could even save you money, hassle, and a lot of stress. We cannot highlight the importance of taking urgent action, which is why we advise you to call us today so that we can get to the source of the problem as a matter of urgency.
Drainage Leak Detection
It is an easy but expensive mistake to assume that leaks in your drainage system are not as damaging as in the water supply. Leaking drains can cause nasty lingering smells, extensive damage to your property and can be some of the most challenging leaks to locate.
Another complication is that many of these types of leaks occur underground, making the problem even more difficult to rectify. Our
drainage leak detection
service can find your leak quickly and efficiently. Using both internal and external CCTV technology, we can typically pinpoint the source of the leak.
ADI Leak Detection - FAQ's
How much does your water leak detection service cost?
This is one of the first questions many people ask us and is another problem we have set out to resolve. Rather than charging an hourly rate, ADI Leak Detection charges one standard daily price. This gives our customers confidence that there will be no surprises, and it also ensures that our engineers are not under any time constraints or rushing to finish a specified number of jobs every day. They are given the time to do the job properly and professionally, giving you complete peace of mind.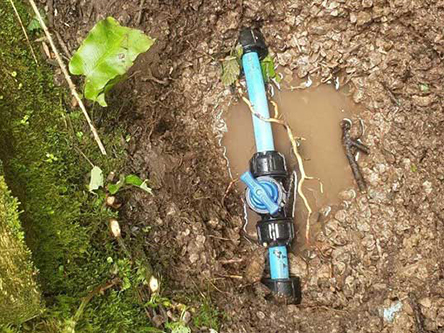 How long does the leak tracing process take?
Every leak is different; every property presents a new challenge, which means that there is no easy answer to this question. However, having searched for and located thousands of leaks over the years, the average time it takes to complete our leak detection process, from start to finish, is about four to six hours. Upon completion of a leak detection and repair, we also retest the system. We have built our reputation on quality work, first-class customer service and competitive pricing. We have hundreds of testimonials, and our aim is always to exceed your expectations.
What are the benefits of professional leak detection vs a local plumber?
Although it might seem logical that a plumber could fix the leak, the issue is not so much about fixing the leak; it's about finding the leak in the first place and accessing the exact source with minimal damage. A local plumber would be highly unlikely to have the specialist knowledge, expertise or tools to complete this type of job. Although it could be tempting to try a local plumber, the cost to find the leak could be much higher in terms of damage to your home, time and stress. Don't gamble with the future of your property; call in the leak detection experts today.
What can you detect water leaks under?
With our tools and expertise, we can typically find leaks through virtually any type of surface - soil, concrete, walls or plasterboard. Whatever the issue, whatever the difficulties, our engineers hate to accept defeat. They love to think outside of the box and find innovative solutions to whatever challenges they are presented with.
Can you help if my boiler is losing pressure?
In many cases where the boiler constantly loses pressure, the problem is a hidden leak. Our central heating leak detection service was designed specifically for this type of problem. The process is quick, efficient, and non-invasive, and unless we come across a particularly challenging problem, it can normally be resolved within the same day.


Common boiler fault codes which occur when a boiler is losing pressure include these Ideal F1 Fault Code, Vailliant F75 Error, Vailliant F22 Code or Baxi Potterton E119 Error. These all indicate your boiler is losing pressure. We carry out a full central heating leak detection service using our non invasive leak detection techniques and can often carry out a leak repair on the same day.
Which Specialist Equipment Do You Use To Find A leak?
This is not a question that many people ask our engineers because the list of tools we carry is virtually endless. All of our vans come fully equipped with a range of specialist tools, including CCTV cameras, acoustic listening devices, tracer gasses, and moisture detectors. We have invested hundreds of thousands of pounds into leak detection equipment, and we have even developed our own proprietary equipment designed in our lab by our team of engineers.
Water Leak Detection Near Me In Eastcote
| | |
| --- | --- |
| HA4 | Ruislip, Eastcote (west and south), South Ruislip, Ruislip Manor, Ruislip Gardens |
The ADI Leak Detection Head Office is based in High Wycombe, Buckinghamshire which supports our network of home based leak detection specialists across the UK.
About Eastcote
Situated within the Borough of Hillingdon in England, Eastcote is an area in the county of Middlesex that was just a small settlement with around 600 residents. It was not until the 20th century that this area quickly blossomed after the opening of the Metropolitan Railway, which brought a substantial amount of visitors and future homeowners and business owners to town. In this blog, you will learn more about Eastcote and its development. 
What's it Like to Live in Eastcote?
There's plenty for everybody in this area with charming pubs, shops, and various local amenities. It is well-connected to its neighbouring towns and villages. It should offer a fantastic countryside atmosphere for people wanting to be far from the hustle and bustle of the capital.
What is Eastcote Known For?
Eastcote has become an amazing holiday destination for people looking to step away from reality and life's stressors. They have many green spaces surrounding the area that are more than enough to provide visitors with a profound feeling of calm and peace along with stunning countryside views and woodlands.
Points of Interest in Eastcote
Eastcote has become a relaxing and pleasant destination to ensure the well-being and rejuvenation of everyone. The first place that comes to mind when coming to this area for relaxation is the Eastcote House Gardens, which sparks tranquillity and calmness to ensure it can easily lift stress and anxiety away. It has been in the area for 500 years, and the beauty is still one to marvel about. One of the most beautiful gardens in the county.
Just north of the Eastcote House Gardens is the Haydon Hall Park wherein the vast wide open space is perfect for various outdoor recreational activities. There's also plenty of wildlife in the area and birds to keep your mind off of the busy work life.
Attractions to visit in Eastcote
| | |
| --- | --- |
| Eastcote House Gardens | 5 Field End Rd, Pinner HA5 2QS, United Kingdom |
| Roxbourne Railway | 446 Field End Rd, Ruislip HA5 1NW, United Kingdom |
| Geo Bar | 163 Field End Rd, Pinner HA5 1QL, United Kingdom |
| Champers Wine Bar | 184 Field End Rd, Ruislip, Pinner HA5 1RF, United Kingdom |
| St Lawrence Church | 2 Bridle Rd, Pinner HA5 2SJ, United Kingdom |
What others have to say about our water leak detection service
Frank was professional, knowledgeable and helpful Frank arrived on time and was very professional, knowledgeable and I was confident in his abilities. He worked for long hours on a very challenging leak detection, found the source of the leak and repaired it, with minimal disruption to the house. I felt he was very trustworthy, with excellent knowledge of his subject, explaining the problem in a friendly manner and answering our questions as we needed.
Fantastic service. Very professional and friendly. Matt located and fixed the leak and was a pleasure to deal with. Highly recommended.
Great service provided by Frank, turned up on time and was very efficient finding and fixing the leak in pipes under concrete. He even added some automatic air vents in the loft and rebalanced the heating system. Very happy customer.
Paul was professional and friendly. Resolved the issue swiftly and went over and beyond to ensure the boiler was working efficiently. A great service. Highly recommended.
We had a leak in our swimming pool which our regular pool firm had been unable to find. Conor and Matt checked the whole pool and managed to find and resolve the leak. Would highly recommend them.
Great professional service from initial phone call to book engineer, through to the detailed report produced for the insurance company. Matt, who came to our property to confirm, locate and repair the leak (identified on our water bill) was professional and knowledgeable. He fully explained what he was going to do and why and spent time and care removing paving to fix the problem, so that it could be re laid. Really pleased with this company and their services, would definitely use again, but hope we don't need to!
Called ADI out to trace leak under dining room floor. Gabor was very methodical and thorough in finding the leak without causing excessive damage to the tiled ceramic floor over a concrete screed - as a result only one tile had to be broken to get at the leaking joint. Joint replaced and heating back up and running the same day
Our boiler was dropping pressure regularly. Contacted ADI and spoke with Monique who was very helpful and knew exactly what she was talking about. They were able to send out an engineer within a couple of days. Grant came on time and was very knowledgable and friendly. Talked us through exactly what he was doing and was able to detect the leak very quickly. The only downfall was the price!!
Adam was very knowledgeable, found and fixed the leak.
Due to a water meter being fitted in my home it made me aware of leak under floor I was so pleased and couldn't thank Paul the engineer from ADI leak dection enough for the service he provided he really did go above and beyond from start to finish. He arrived at the approx appointment time and clearly understood the situation I was in my husband is currently having chemotherapy and the least disruption needed to be followed hense to say he detected underfloor leak with no disruption to floor and managed to stop it. I am so grateful to Paul and wouldn't hesitate to use his service again
Choose ADI Leak Detection – The Water Leak Detection Experts In

Eastcote
ADI Leak Detection is the original specialist leak detection company in the United Kingdom. We have trained engineers located across the length and breadth of the county, and have thousands of positive reviews and testimonials from relieved and delighted clients. When it comes to leak detection in Eastcote don't take any risks with your property – call ADI today!