Central Heating, Gas & Water Leak Detection Sunbury on Thames
We leave your property in the same condition that we found it when we started leak tracing
ADI gas leak detection provides non-invasive leak detection for customers across Surrey, including Sunbury-on-Thames, using the most modern in leak detection technology like:
Acoustic Leak Detectors
Nitrogen Hydrogen Gas Tracing Systems
Moisture Detection Systems
Thermal Imaging Cameras
Snake Cameras
Pipe Tracing Equipment
The smart time to call ADI is when you first notice the sign of any leak on your property. The sooner we can carry out our leak survey the sooner we can help you fix the problem. Our equipment allows a non-destructive investigation of your property which basically means we never need to dig holes or drill holes to find you leak. As well as working very efficiently we also offer an extremely competitive and transparent pricing structure that we feel you'll love when you see it.
ADI are regularly hired to work on projects like:
Residential Leak Detection
Insurance Based Work
To provide the best possible leak detection service for our customers ADI are constantly investing in new equipment for our teams. We also invest heavily in training for our engineers to ensure they're capable of dealing with issues like:
Central Heating Leak
Water Mains Leaks
Swimming Pool Leaks
Leaks Inside Walls
Leaks Under Floors
Pipe Tracing
If you're living in Sunbury-on-Thames or any of these areas ADI are available to help you:
Ashford
Feltham
Hampton
Hanworth
Heathrow
Molesey
Shepperton
Staines
Teddington
Twickenham
Walton-on-Thames
Don't worry if you can't find your location listed here because ADI can still call to help you.
Why not call us now on 08007313843 and one of our friendly and professional engineers can help you take the next step to a life free of leaks.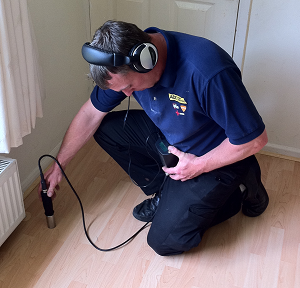 ADI Leak Detection FAQ's
Which water leaks can you find?
We specialise in locating water leaks under floors, on central heating systems, on water mains, hot and cold water feeds. The list is almost endless, but if you have a water leak in a property then we should be able to help you – Simply give us a call on 0800 731 3843 to find out.
Are you able to locate an external water leak?
We have a specialist crew who pinpoint the location of external water mains leaks every day. Using a complete range of specialist leak detection tools, equipment and expertise we are able to accurately locate water on long and short stretches of water mains.
Are you able to repair my leak once you have found it?
Our team are all highly experienced plumbing and heating engineers, many of whom have been tracing and repairing water leaks for many years.
We are on most occasions able to provide a repair service for your water leak once it has been located, this will however depend on the exact location of the leak along with several other factors
Do you have any testimonials for your leak detection service?
Yes, we have over 140 reviews on Which trusted traders with a glowing 4.6 star out of 5 rating!
I am a landlord and my property is elsewhere in the UK, are you able to help?
Sure, we serve the majority of the UK from our base in High Wycombe, Buckinghamshire and via our network of engineers nationwide.
How can I enquire and have you come solve my problem?
Call one of our small & friendly team on 0800 731 3843 and they will be sure to listen to your problem and you will discover if we can help you.