Gas, Central Heating & Water Leak Detection Hoddesdon
ADI engineers use sophisticated electronics to find the source of your leak
ADI provide a non-invasive leak detection service for the entire area of Hertfordshire, including Hoddesdon, using a range of ultramodern equipment such as:
Acoustic Leak Detectors
Moisture Detectors
Snake Cameras
Pipe Tracing Systems
Thermal Imaging Cameras
Nitrogen Hydrogen Gas Tracers
The range of advanced equipment that ADI use means that we can find the source of any internal or external leak on your property in the absolute minimum amount of time – usually in just a single day. Our engineers are trained to work in the most unobtrusive way to ensure that there's a minimum amount of disruption caused to you or your family. And we can also offer you great value for money because of the level of efficiency we operate with.
The services of ADI are routinely engaged to work on projects such as:
At ADI we put a lot of emphasis on keeping our customers satisfied and we do that by ensuring that you only ever deal with a professional when you call ADI to help you with any of the following types of problems:
Swimming Pool Leaks
Central Heating System Leaks
Under Floor Leaks
Leaks Within Walls
Water Mains Leaks
ADI are happy to help customers living in Hoddesdon or any of the following areas:
Broxbourne
Epping
Harlow
Lower Nazeing
Ware
Regardless of where you're located in the United Kingdom ADI can call to help you.
Worry won't make that leak go away but calling ADI on 08007313843 is the first step to fixing that leak once and for all.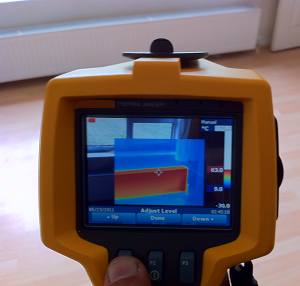 ADI Leak Detection FAQ's
Which water leaks can you find?
We specialise in locating water leaks under floors, on central heating systems, on water mains, hot and cold water feeds. The list is almost endless, but if you have a water leak in a property then we should be able to help you – Simply give us a call on 0800 731 3843 to find out.
Are you able to locate an external water leak?
We have a specialist crew who pinpoint the location of external water mains leaks every day. Using a complete range of specialist leak detection tools, equipment and expertise we are able to accurately locate water on long and short stretches of water mains.
Are you able to repair my leak once you have found it?
Our team are all highly experienced plumbing and heating engineers, many of whom have been tracing and repairing water leaks for many years.
We are on most occasions able to provide a repair service for your water leak once it has been located, this will however depend on the exact location of the leak along with several other factors
Do you have any testimonials for your leak detection service?
Yes, we have over 140 reviews on Which trusted traders with a glowing 4.6 star out of 5 rating!
I am a landlord and my property is elsewhere in the UK, are you able to help?
Sure, we serve the majority of the UK from our base in High Wycombe, Buckinghamshire and via our network of engineers nationwide.
How can I enquire and have you come solve my problem?
Call one of our small & friendly team on 0800 731 3843 and they will be sure to listen to your problem and you will discover if we can help you.