Central Heating, Gas & Water Leak Detection Kidderminster
When ADI are working to find a leak they leave your property intact
ADI gas leak detection provide their non-invasive leak detection to clients right across Worcestershire, including Kidderminster, using the very latest in leak detection technology like the following:
Acoustic Leak Detectors
Moisture Detectors
Snake Cameras
Pipe Tracing Equipment
Thermal Imaging Cameras
Nitrogen Hydrogen Gas Tracing Systems
Each ADI engineer has access to the type of leak detection technology that allows them to work on a very wide range of leak issues. It also enables them to locate leaks inside walls or under floors without having to dig holes. As a matter of fact our leak detection procedures are so non-invasive you probably won't eve notice us working. Plus with the level of efficiency our teams work at it means we can pass that on to you in the form a very competitive pricing structure. At ADI we're regularly hired to work on the following:
Industrial and Commercial Leak Detection
Insurance Related Projects
Residential And Domestic Leak Detection
We make absolutely certain that each one of our engineers is amongst the most highly trained and skilled in their field in the UK. We do this to ensure that any of our team can help you with any of the following situations:
Swimming Pool Leak Detection
Under Floor Leak Detection
Pipe Tracing
Water Mains Leak Detection
Leaks Located Inside Walls
Central Heating Leak Detection
If you're a resident of Kidderminster or any of the following areas you can contact ADI for leak detection help:
Bewdley
Cookley
Draytron
Kingsford
Shenstone
Stourport-on-Severn
Trimpley
Waresley
ADI are also available to help clients with their leak detection requirements regardless of where they live in the UK.
Getting help from a team of leak detection professionals is only a phone call away. Make the right move by calling ADI now on 08007313843.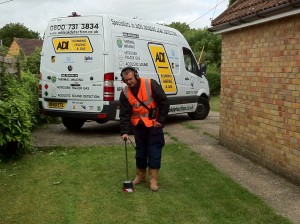 Our Client FAQ's
Which water leaks can you find?
We specialise in locating water leaks under floors, on central heating systems, on water mains, hot and cold water feeds. The list is almost endless, but if you have a water leak in a property then we should be able to help you – Simply give us a call on 0800 731 3843 to find out.
Are you able to locate an external water leak?
We have a specialist crew who pinpoint the location of external water mains leaks every day. Using a complete range of specialist leak detection tools, equipment and expertise we are able to accurately locate water on long and short stretches of water mains.
Are you able to repair my leak once you have found it?
Our team are all highly experienced plumbing and heating engineers, many of whom have been tracing and repairing water leaks for many years.
We are on most occasions able to provide a repair service for your water leak once it has been located, this will however depend on the exact location of the leak along with several other factors
Do you have any testimonials for your leak detection service?
Yes, we have over 140 reviews on Which trusted traders with a glowing 4.6 star out of 5 rating!
I am a landlord and my property is elsewhere in the UK, are you able to help?
Sure, we serve the majority of the UK from our base in High Wycombe, Buckinghamshire and via our network of engineers nationwide.
How can I enquire and have you come solve my problem?
Call one of our small & friendly team on 0800 731 3843 and they will be sure to listen to your problem and you will discover if we can help you.