Water Leak Detection Specialists In Herefordshire
Our national reach as a leak detection company, including our work in Herefordshire, means that ADI has come across every kind of internal, external, heating and underground leak you can imagine. We deal with people from all walks of life, from tenants to landlords to retail units, and we've had to help each of our customer types deal with what happens when unidentified leaks cause havoc for their business or personal lives.
An unidentified leak that you've not actively looking for can cause problems such as:
The increase in the risk of soil erosion and structural subsidence as a result
Providing a breeding ground for insects and vermin, which is a health risk
Hidden damage to your floors and walls which could cost a small fortune to fix
Increasing your metered water bill with every wasted gallon of water
Fungal growth which can cause problems such as asthma in children or the elderly
But you can put that worry to one side now because help from ADI Leak Detection is only a phone call away and we have a comprehensive range of solutions and equipment to deal with any leak scenario you can imagine. Even before we arrive we can give you tips and advice on how to minimize further damage from the leak and you'll also find each of our highly trained and professional leak engineers a pleasure to deal with. We do also offer a complete leak survey of your property to identity any other potential problems.
ADI engineers use 4 different types of non-invasive leak detection equipment to find the source of your leak, we only need to actually dig or drill any holes when we know exactly where your leak, or leaks, are. This means you save thousands in potential damage to your property.
Visual
Our thermal imaging cameras use advanced heat detection technology to locate both hot and cold spots in your walls or floors, this is a sign of some kind of leak problem being present.
Acoustic
These advanced devices can detect the sounds of a leak up to 9-feet underground and to an accuracy of with 5cm, there's no guesswork
Gas Tracing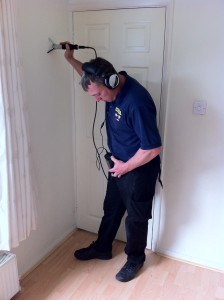 We flood your empty pipes with a non-explosive gas which then leaks out and is detected by the gas sniffer units we place strategically around your home, we get an exact leak location based on this.
Leak Correlators
These leak detection devices are ideal for tracking down the source of leaks spread over a wide area, achieving this by using advanced electronics and computer software which identifies exactly where the leaks are.
ADI Leak Detection is committed to providing you with the best possible value for money so we work as efficiently as possible on every single leak detection task.
We love sharing the feedback we receive from our previous customers:
So now you have seen some of our customer testimonials, know the potential problems you leak could cause and know how we can help you. All that is left for you to do is give our friendly team a call on 0800 731 843, they will help and advise you on your best course of action.
Towns We Serve In Herefordshire Include: