Water Leak Detection Hinckley - Central Heating, Water Mains, Swimming Pools & More!
Thermal Imaging Cameras
Gas Leak Detector
Moisture Detectors
Pipe Tracing Systems
Nitrogen Hydrogen Gas Systems
Snake Camera Units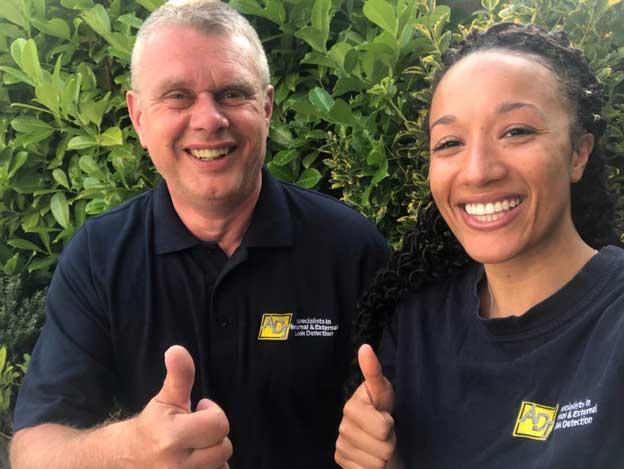 You can save yourself a lot of money and headaches by calling ADI the split second you notice that you have a leak of any size. We can then deploy the equipment necessary to track this leak down and prevent a major water leak incident. We have a track record of locating almost 98% of all leaks within one day so you don't need to worry about us spending weeks onsite with you. And you still get to benefit from our very competitive pricing structure and transparent pricing policy.
You can engage the services of ADI Leak Detection to work on the following:
Residential & Domestic Leaks
Insurance Projects
Industrial & Commercial Leaks
ADI have available to you some of the most highly skilled, trained and qualified leak detection specialists in the country – each of whom can successfully deal with any of the following issues for you:
Interior Wall Leak Detection
Underground Leak Detection
Leak Detection in Hinckley
ADI are able to offer their services to customers living in Hinckley and the following areas too:
Hinckley
Burbage
Wolvey
Sharnford
Aston Flamville
Copston Magna
Water Leak Detection Throughout Hinckley
The town of Hinckley started as a Saxon village. However, in 1086, Hinckley became a big village with a population of about 300 people. This town had a market customarily held every year, making people come over to trade or buy at the fair. Today, this town is known for best places like:

Burbage Common and Woods. This is a large countryside located at Hinckley's edge. It's great for dog lovers, walkers, and the mix of semi-natural woodland and grasslands that is 200 acres in size. So many visitors keep on coming back to this place because it is such a beautiful sight, with snow and glimmer of sunlight coming from the trees. It's a nice place to share the moment with friends and loved ones.

Haunted Antiques Paranormal Research Center. This is an exciting place to visit for people who have an interest in the paranormal. It may be spooky, but the museum has a distinctive atmosphere. It's very brilliant, and there are so many mysterious and interesting artifacts. There was also someone who would tour visitors inside and explain the story of the items.
Concordia Theatre. This place is known for its superb program of events and shows. It is an independent amateur theatre that hosts pantomime, dance, musicals, and more entertainment. Their professional show always makes a great treat for children and adults. The costumes, special effects, and performances were outstanding; no wonder why many people would visit.

Hinckley and District Museum. This is one of the local history museums that hosts a diverse mix of displays, collections, and activities. It is built in a row of half-timbered thatched cottages from the 17th century. The museum has been open to the public since 1995 and is known to many as a building that holds onto the history of Hinckley. It also has a café at the back to chill and take a break.