That Unresolved Water or Heating Leak Means That You're Pouring Hard Earned Money Down Your Drain
In the current economic climate nobody can really afford to throw money away – most people even struggle with spending money on the bare essentials. That's why it's always baffled the team here at ADI about why people who know they can't afford to waste money knowingly waste a small fortune each year on water leaking from pipes they're being charged for. Not only are you wasting money by doing that but you're also putting your property at risk from a wide variety of other issues.
Here are some of the main problems you'll have to deal with:
If the soil beneath your property gets eroded enough there is a risk of property subsidence
You're providing ideal breeding conditions for insects and vermin of all kinds
If your property suffers water damage it will knock thousands off the market value
You're also risking serious cosmetic damage and internal structural damage
You can stop fretting about that underground water leak now that you've discovered the services of ADI Leak Detection – we have all the tools, training and experience required to deal with any kind of water leak anywhere on your property. All of our team members are trained to a very high standard and are also fully insured to perform this type of work.
Our engineers use four very powerful and very different types of leak tracing tools to find the source of your leak:
Leak Correlators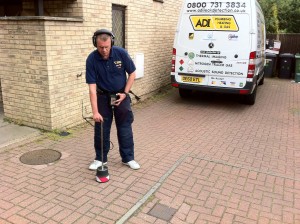 A leak correlation system is especially useful for tracking down leaks in large spaces like a factory, farm or warehouse – it uses electronic sensors and a portable computer system to do that
Thermal Imaging Cameras
Patches of heat and cold inside your walls let us know that there's a new or existing leak present – our thermal imaging cameras expose these leaks
Acoustic Leak Detection
When we need to trace an underground water leak we use our acoustic leak detectors because they can find a leak that's buried up to 2.5 metres underground
Gas Sniffers
Our gas sniffers are set up in your property to detect even tiny amounts of our tracing gas escaping from your plumbing or heating pipes
You can save yourself a small fortune in repair costs by hiring a truly modern and non-invasive leak detection service in the form of ADI Leak Detection.
It's important to us that we provide our customers with this level of satisfaction:
Why not call our team of leak detection specialists now on 0800 731 3843 – discover how we can eliminate that leak from your life!