Water Leak Detection Bishop's Cleeve - Central Heating, Water Mains, Swimming Pools & More!
ADI shower leak detection are providers of a completely non-invasive leak detection service for Gloucestershire and its environs, including Bishop's Cleeve, using the most modern and advanced leak detection equipment such as:
Thermal Imaging Cameras
Pipe Tracing Systems
Acoustic Leak Detectors
Nitrogen Hydrogen Gas Tracing
Snake Cameras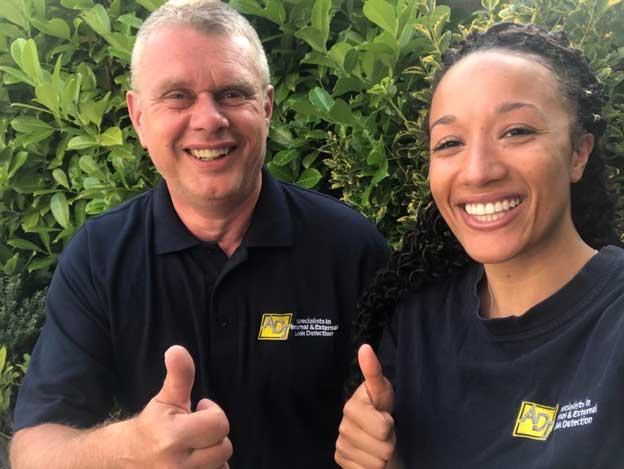 The first sign of a leak is the first hint that you should call ADI gas leak detection to carry out a non-destructive leak investigation on your residential or commercial property – the longer you wait the worse that problem will get. Our teams are trained to work as quietly and quickly as possible so that we can trace your leak without interrupting your home or business in the process. On top of that ADI can also offer you exceptional value for money for the service we offer.
ADI engineers are frequently asked to take on projects such as:
Commercial and Industrial Leaks
Insurance Related Projects
Domestic and Residential Leaks
All of our engineers have access to both the very best in training and the very best in tools and equipment to allow them to perform their role to its maximum possible level. For our customers it means you can call us to deal with any of these issues for you:
Leaks Inside Walls
Leaks Under Floors
Swimming Pool Leaks
Central Heating Leak
Water Mains Leaks
Leak Detection in Bishop's Cleeve
ADI are able to offer their services to customers living in Bishop's Cleeve and the following areas too:
Battledown
Bishops Cleeve
Charlton Kings
Cleeve Hill
Gotherington
Oxenton
Prestbury
Southam
Stoke Orchard
Woodmancote
Woodmancote Park
Water Leak Detection Throughout Bishop's Cleeve
Bishop's Cleeve is a large village in the borough of Cheltenham. It lies at the foot of Cleeve Hill, the highest point in the Cotswolds, and borders Woodmancote on the east side of the Gloucestershire Warwickshire railway that splits the two parishes. Bishop's Cleeve is served by the A435 running through the Western side of the village, with direct access to Cheltenham and Evesham. The village has seen a vast expansion of its housing estates. There are currently over 50 shops in the village,with two large superstores and many large local businesses. Other amenities in Bishop's Cleeve include schools, pubs, and recreational facilities.

The Swallow Inn

The Swallow Inn is a restaurant and pub which serves a fantastic mix of Chinese and English dishes alongside a great selection of drinks. The restaurant is located along Bishops Drive, and is open from 5pm daily, except on Sundays. To order takeaway, call 01242678333.

Tesco Superstore

Tesco Superstore sells a range of groceries and household goods available for in-store shopping, in-store pick-up, and delivery. The supermarket is located at Church Road and is open daily from 6am until 12am from Monday to Saturday and 10am until 4pm on Sunday. For delivery, call 03456779097.


The Co-Operative Food

The Co-Operative Food sells a range of groceries and household goods with a focus on ethical sourcing. The store is located at 6 The Green & 3-4 The Green in Bishops Cleeve and is open daily from 7am to 10pm.

Bishops Cleeve Bowling Club

Bishops Cleeve Bowling Club is primarily a lawn green bowling club with an outdoor bowling green and a clubhouse complete with lounge bar, kitchen, and changing rooms. The club also has two mats for indoor short mat bowling during the winter season. For enquiries, call 07930964858.

Tithe Barn

The Tithe Barn is a community centre situated in a Grade II listed Tudor building located at 19 Cheltenham Road in Bishop's Cleeve. It comprises of several facilities, including a main hall, a bar, a school room, a meeting room, and a committee room. For enquiries, call 07542101705.