How Deep Is A Water Main? 
All water mains pipes in the U.K. should be laid underground at a minimum depth of 750mm and no deeper than 1350mm from ground level. 
This is to keep the pipes safe from the elements and minimise ground movement damage.
When we are training our specialists on how to detect a water pipe leak underground we use a variety of techniques and test how deep we trace a leaking water main supply pipe.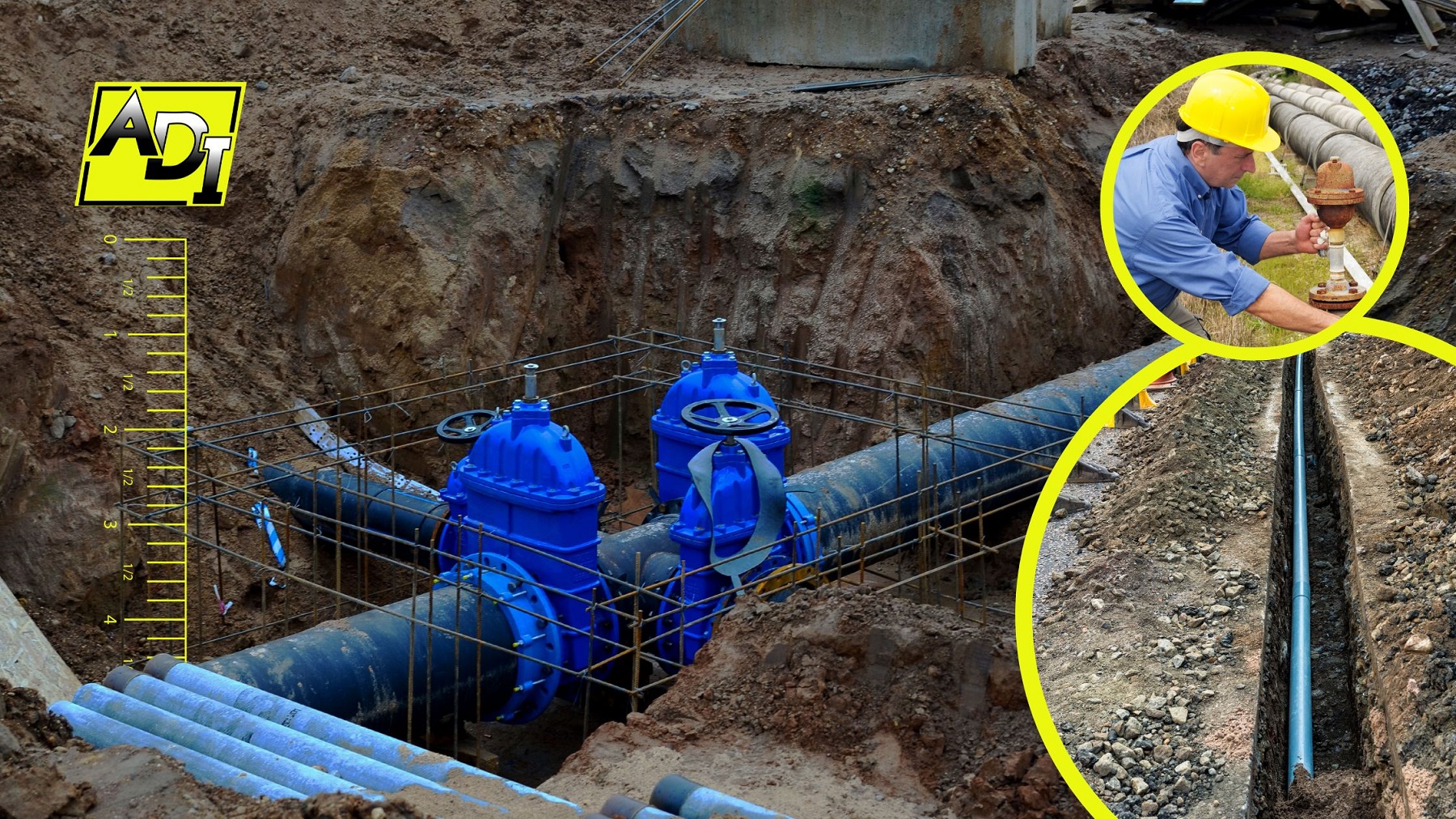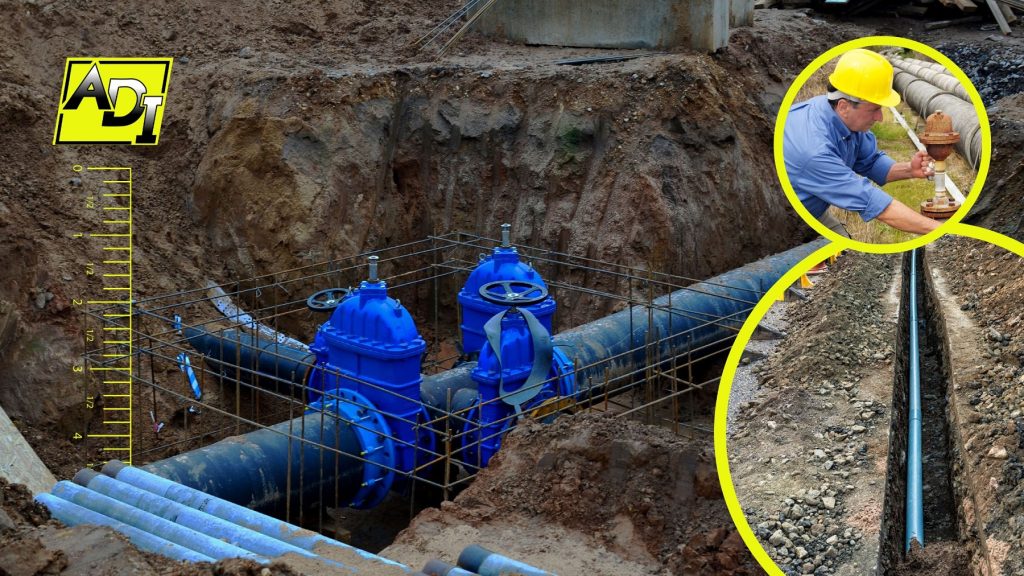 How deep should you bury water pipes to prevent from freezing in the U.K.? 
As we are prone to having freezing weather in our U.K. winters it is essential that your mains water pipes are buried deep enough to help prevent the water in the pipes from freezing. 
Freezing water in pipes can cause havoc with the structure of the pipes and cause cracks to form and can even make your pipe burst. 
These pipes should be a minimum of 750 mm underground from the ground level.
Our commercial & home water leak detection services can find leaks on water mains as deep as 3 meters, even through concrete!
What is the colour of MDPE (mains water pipe)?
MDPE pipes which supply water from the mains supply to your property underground are usually blue in colour. 
All blue MDPE pipes carry drinking water. 
You may come across black water pipes which are for carrying non drinking water to properties. Sometimes you may find a black pipe with a blue stripe of which some water companies will use for transporting drinking water.
Does a main water pipe have to be protected?
Yes, it is important that when a main water pipe is laid there are precautions in place to help protect it underground. This includes having it laid on top of sand or another soft material and not rubble.
The sand or other soft material should be packed around and on top of the pipe too to protect it from any hard stones which could puncture the pipe.
All mains water supply pipes should be a minimum of 350mm away from any other pipes like gas or electricity pipes as it is not a good idea for these elements to mix.
How can ADI Leak Detection Help With Water Mains?
If you suspect a mains water leak it is important to act promptly to help minimise damage and cost.
A leak can occur at any time and ADI Leak Detection Specialists are always on hand to detect where the leak is coming from using a range of advanced technological solutions and repair it in a timely manner.
We are able to detect leaks in 99.99% of cases and have engineers located all over England, Scotland & Wales to help with water leaks.
Water Mains Leak Detection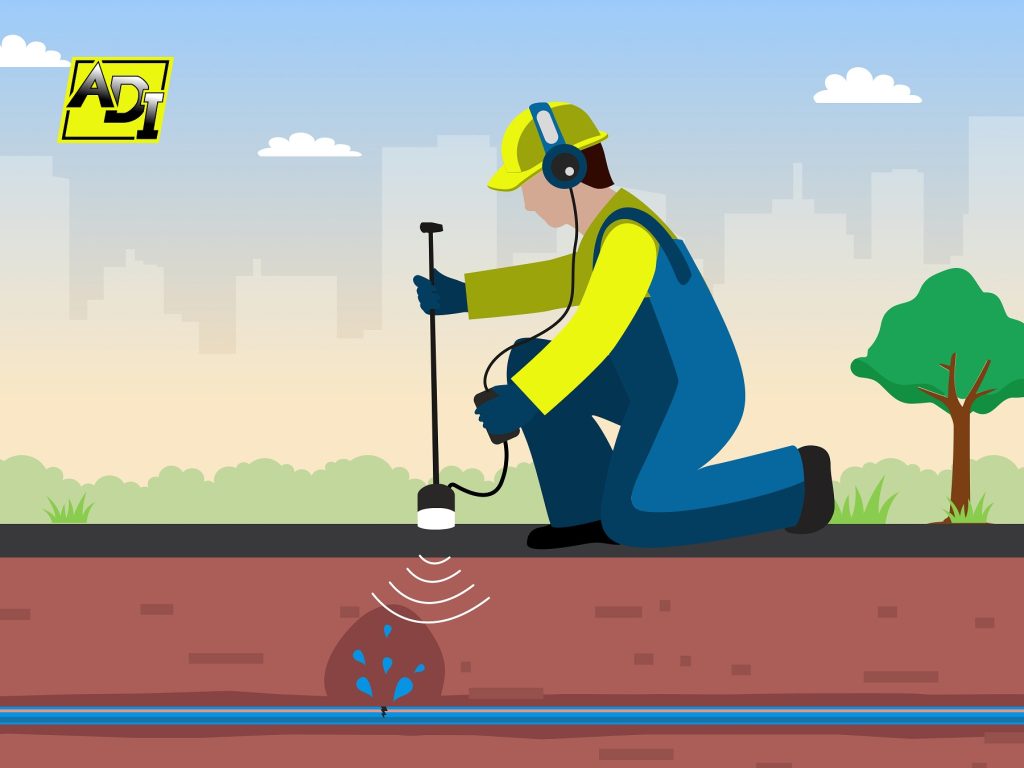 If you suddenly find yourself with a higher than usual water bill, low water pressure or discoloured water then this could be an indication that you have a water mains leak somewhere in your pipework. 
Pinpointing this leak can be difficult and costly through a normal plumber. 
Here at ADI Leak Detection we use state of the art technology to locate the exact location of the leak without having to dig down to pipes to look for it, keeping disruption and cost to a minimum.
If the damage to the mains water pipe is too bad to be repaired then a replacement pipe will need to be fitted in its place.
Here at ADI Leak Detection we are not only able to detect a leak but we can also repair or replace parts in a quick and timely manner to avoid excessive water damage to your property.
The way we repair burst or damaged water pipes depends on a few factors such as location and the extent of the damage.
Our specialists may use soldering or a technique called epoxy to repair a crack but if the damage is severe then it may be necessary to replace the entire section of pipe.
Contact ADI Leak Detection Today 
If you think you have a water mains leak don't hesitate to call our dedicated customer service team to get a free leak detection quote so we can act quickly and resolve your problem with minimal fuss and disruption. 
A water leak isn't going to go away on its own. The faster you act the less damage can be caused.