When it comes to detecting leaks in your system, we as professionals have access to a wide range of techniques and tools which can help them track down the source quickly and effectively – this is why we generate so many positive reviews from clients about our Leak Detection Services.
What Is Thermal Imaging?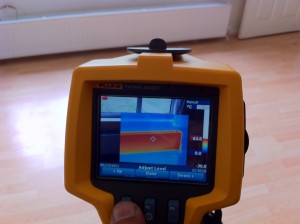 Thermal imaging cameras work by detecting contrasting patterns of heat. Most floors in a home will tend to remain around room temperature – usually between 18°C and 21°C. Hot water pipes, however, will raise this temperature by anything between 4°C and 5°C, and this difference can be picked up with the colour contrast on the thermal imaging device. While the edges of the pipes will appear sharp and distinctive, any potential leak will show up as more of a vague pattern – this is due to the water, running at a warmer temperature, escaping from the leak and running free.
Is Thermal Imaging Leak Detection Accurate?
While thermal imaging can be a very useful tool in the task of leak detection, it is not the most accurate weapon in the arsenal. In short, thermal imaging can be great for detecting the general area of a leak – it may be able to show you which pipe is the issue, or the spot to focus on. In most cases, however, you will not be able to pinpoint the exact location of a leak from thermal imaging alone – you will need alternative solutions to obtain a true confirmation of the exact spot of the leak.
It is important to note that thermal imaging can be used to ascertain the location of a change in temperature, which is highly suggestive of a leak. It cannot, however, be used to actually detect moisture, and this can make it very difficult if the leak is slight or totally invisible. For greater accuracy, alternative options are required.
What Are The Other Leak Detection Options?
The two main other options available for detecting leaks are the use of tracer gases, and using acoustic listening devices – these will help to narrow down the intended location far more effectively.
Tracer Gases
Tracer gases refers to a combination of gases – typically nitrogen and hydrogen – which are combined to detect leaks. Hydrogen is the lightest of all gases, allowing it to seep through even smaller gaps – this means that the exact location of the leak can be determined quickly and easily, and without the need for invasive actions such as pulling up floors, removing walls or disturbing foundations.
Acoustic Listening Devices
Acoustic listening devices can also be used to accurately detect the source of leaks; the technology has the ability to hear and identify leaks which occur as far as 2.5m below the surface, making them particularly perfect for large surface areas, and underground mains pipes such as those found in the street.
Let Us Detection Your Leak…
If you suspect a leak in your home, we have the tools and team to help. Here at ADI Leak Detection, we have a wealth of experience in sourcing and repairing leaks in a range of situations.
Get in touch today by calling 0800 731 3843 and see how we could use the most advanced techniques and equipment to get to the source of your water leak in no time, and offer a fast, effective solution to get your pipes back to their very best in no time.