At ADI Leak Detection we are proud of our modest beginnings.
It's funny to think that almost 20 years ago we were just a small group of hardworking plumbing and heating engineers doing domestic and commercial plumbing in and around Buckinghamshire, UK.
Our knowledge, experience and passion for the trade had been growing and growing over those years.
We have serve thousands of clients with Leak Detection Services over the years and found many leaks where others have failed! Each year we publish some advice on what to do to prepare your pipework for winter.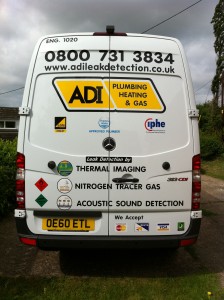 When we were challenged to locate a leak on a buried heating pipe without causing damage to our customers' floor, we knew we had reached a potential turning point in our careers.
We would find a way to solve the problem by hook or by crook and if we didn't succeed, a vulnerable pensioner receiving 24 hour care would have been moved out of her home while all the floors were ripped up in search for the leak.
At this point in time, thermal imaging cameras were pretty much the only method of non-invasive Leak Detection. The customers' floors were concrete and the problem was that the heating circuit was not full at the time.
We had called in some thermologists to try and trace the leak but they weren't willing to wait for us to fill the system in order to generate some heat to be picked up by the cameras.
With that, our customer was charged £500 (which we reimbursed her by the way) and told to give the thermologists a call back once the system had been filled and was hot.
The system was leaking badly and at this point we knew we were going to have find other ways of making the leak detectable.
So we took a risk and invested in some other equipment that would mimic the human senses in electronic form.
Knowing that hydrogen is the lightest gas molecule, rising up through any porous surfaces, we invested in hydrogen & nitrogen gas cylinders, gas sensors and sensitive ground microphones.
We Had Found The Central Heating System Leak…
It took us a couple of days of trial and error, but in the end we found the leak! And we had propelled leak detection methods into the 21st century, with a belt and braces approach to solving the problem.
Over the following years we continued to develop even more advanced and effective methods of pinpointing leaks on any hidden pipework, even under concrete without having to dig up or cause damage to the surrounding area.
We soon became the market leaders in non-invasive Leak Detection in the UK. Since then, many others have attempted to mimic our methods!
Some not carrying all the Leak Detection equipment needed.
Some carrying the equipment but not being able to commit their findings and follow through with the repair.
Being plumbing and heating engineers, we are still one of the few companies who are also able to carry out repairs to your leak.
All of the above pretty much sums up why we consider ourselves The Original Leak Detection Company!