Water Leak Detection Whickham - Central Heating, Water Mains, Swimming Pools & More!
The extensive training which we provide for every one of our leak detection technicians ensures that no matter what leak detection challenges they face, they can always meet them.
We have faith that we provide what has been named as the very best leak detection service to be found in the County of Tyne and Wear and the area of Whickham. We deploy professional team members using state of the art equipment such as:
Pipe Tracing Equipment
Acoustic Leak Detectors
Thermal Imaging Cameras
Nitrogen Hydrogen Gas Tracing
Snake Cameras
If you have been overlooking a leak simple because you thought that having it fixed would not be worth the damage caused to your property during the repair, then you need to call us. We operate in an entirely non-intrusive fashion, we will not dig holes and we will not rip up your flooring.
We can trace a whole range of leaks with minimum fuss including: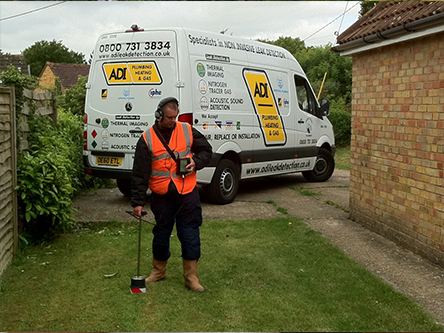 If you are looking for the top leak detection in Whickham then you have come to the right place. When we place an engineer at your disposal you can be sure that you are dealing with a professional technician. We can help with:
Swimming Pool Leak Detection
Central Heating Leak Detection
Water Mains Leak Detection
Leaks Located Inside Walls
Pipe Tracing Services
Under Floor Leak Detection
Leak Detection in Whickham
Residents of Whickham can avail themselves of the market leading ADI gas leak detection service; we can also visit the surrounding areas of:
Burnopfield
Sunniside
Whickham
Water Leak Detection Throughout Whickham
Whickham is a semi-rural, middleclass suburban town in the Metropolitan Borough of Gateshead, North East England. It is 5 miles southwest of Newcastle upon Tyne and lies within the historic County Durham. The town is situated on a large hill, overlooking the River Tyne. Whickham comprises a mixture of large suburban housing estates and comes complete with amenities such as shops, retailers, pubs, and restaurants. St. Mary's parish church is the oldest building in Whickham. Here are some of the amenities and facilities you will find at Whickham:

Whickham Hermitage Community Garden

The Whickham Hermitage Community Garden on Hermitage Lane, Front Street is an award-winning free-to-use garden with a modern Orangery tearoom, providing an oasis in the heart of a bustling village. Visitors can enjoy a walk around to appreciate the vast array of plants and visit the pond, which was formerly an old mini boating lake. The Whickham Hermitage Community Garden is wheelchair accessible and also provides toilets for disabled guests. You can also shop for plants or attend special events.
The Harry Clasper

The Harry Clasper is a JD Wheatehrspoon pub on Front Street. The pub is named after local boat builder and oarsman Harry Clasper, who became a famous sportsman in Victorian times who was also a pub landlord throughout his racing career. The Harry Clasper is child-friendly and wheelchair accessible. It also offers free WiFi, a baby-changing area, TV screens to watch lives sports on, and a licensed outdoor area where you can enjoy their great food and selection of drinks.

Oli & Joe's Whickham

Oli & Joe's Whickham is an Italian restaurant located at 34-36 Front Street. It serves an extensive menu offering authentic Italian dishes, as well as a menu for children, which are available for dine-in, takeaway, and delivery. For enquiries, call 01914960066.