Testimonials
On this page you will find a small selection of testimonials provided by happy customers up and down the country:
Mr Bailey, Bath – BA1.
Job Number – 908372
"Chose ADI – 1st hit on Google and better call center knowledge than competitors, reasonable price comparison. Would recommend to others"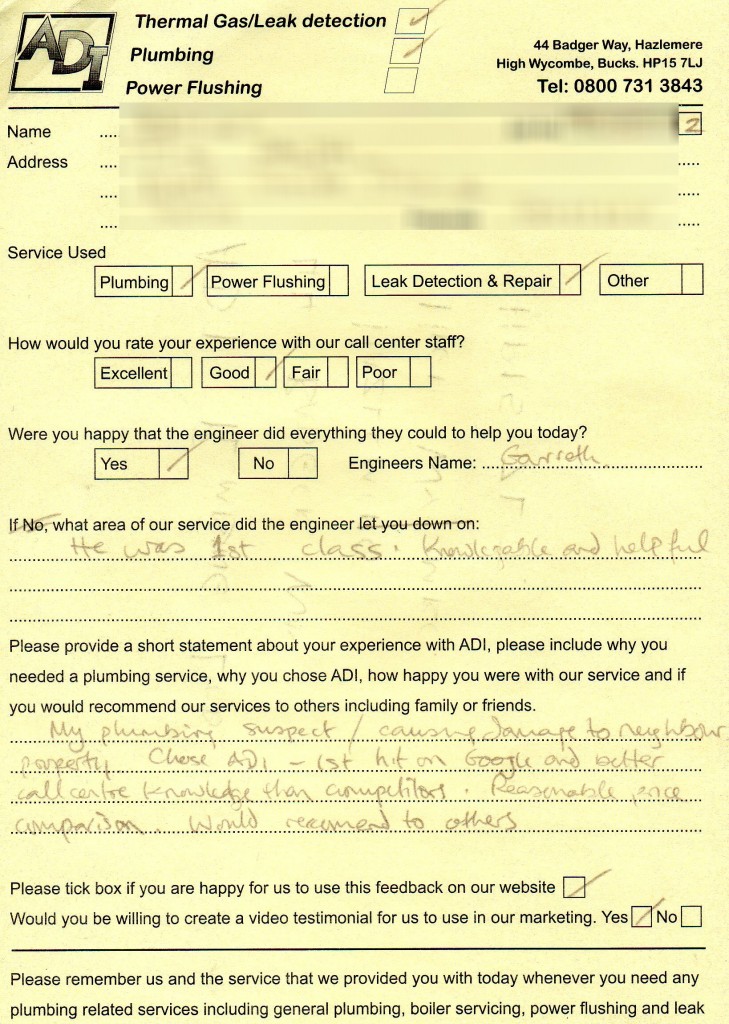 Mr Suter – Storrington, West Sussex


Job Number: 906794

Dear Adrian

After completing his work at my home yesterday, at the unearthly hour of 19:30 – some ten hours after his arrival – Chris asked me to complete and return the attached questionnaire.

I have to say that the standards of service, attitude and behaviour, not to mention the required skill sets, were well above the levels that one has come to expect these days and I would have no hesitation in recommending him and your company to anybody seeking similar assistance.

I hope that you can decipher my handwriting OK!

Kind regards

Ian Suter

Mrs Mainwaring – High Wycombe, Buckinghamshire

Job Number: 906260


Click on the image above to read the letter of thanks. Mrs Mainwaring thanks us for making a worrying situation for her parents much easier to cope with. She then says she would recommend us to anyone."
Miss Bailey – NG7, Nottingham


Job Number: 907966

"Very happy with the service" + "Would recommend to friends & family & use the company again in the future"

Miss Bick – NW6, Kilburn, North West London


Job Number: 906278

"Very helpful, punctual, friendly - Jedi skills outstanding!"

Mr Wyles – Harpenden, Hertfordshire

Leak Detection Job Number – 906226

I Needed to detect a water leak and have it repaired. Vincent was engaging and professional and used thermal imaging to quickly locate the problem. He exposed the problem in a screeded floor + effectively fixed the problem. He Checked and drained the heating system in the house, used hydrogen to verify that there were no further leaks. He left the house in the same condition he found it. A through and complete job.

Mr Warrilow – Grimsby, Lincolnshire


Job Number: 908087

"We has 2 local plumbers give us different diagnosis as to why our pump kept running, 1 found we had a leaking in the central heating but but couldn't find anything. ADI came to the rescue the next day & found the leak with minimal disruption, checked the rest of the system & repaired the leak.

Mrs Thacker – Ickenham, Middlesex


Job Number: 906313

"Very helpful & professional and advised us every step of the way"

Dr Charles Ridgeway – Cherhill, Wiltshire

Job Number: 907167

"I needed to find a leak and found ADI on the Internet, I would recommend to friends"

Mr Rockett – Walton On The Hill, Surrey

Job Number – 907136

"I had a heating system leak which was dealt with efficiently – I would recommend ADI"

Miss Joili – Pinner, Middlesex

Job Number – 907116

"ADI have good information & reviews and were willing to help with our insurer when we claim"

R Taylor – Cooksmill Green, Chelmsford

Job Number – 907046

"I Found ADI on the internet, Adam arrived on time, was courteous & very helpful. He found the leak and and recommended external pipework to avoid any further problems"

Thelk Family – Teddington, Greater London

Job Number – 906506

"We had damp and thought this was due to a leak under the concrete floor. ADI found and repaired the leak, very happy"

Broughton Family – Kenley, Croydon

Job Number – 906644

"Adam was very thorough, helpful and clearly very knowledgeable. Would highly recommend this service.

P Gorman, Manchester

Job Number – 908056

"Extremely Helpful & Professional, Through Checks Made and Issues raised Explained Comprehensively – Excellent Service 10/10!!!"

C Rawlington – Hove, Sussex

Job Number – 906692

"I needed a quick leak detection service and chose ADI because they attended quickly, seemed interested in my plight and knowledgeable. Adam was thorough, friendly, as non intrusive as possible and did a very good job. I would definitely recommend ADI"

Anna Noe -  NW11, North West London

Job Number – 906880

"They were really helpful, made it quick and straightforward"

L Hooper – Guildford, Surrey.

Job Number – 907073

"Very efficient, patient & professional. I would recommend this company"

J Hammond – Leighton Buzzard, Bedfordshire.

Job Number – 906936

"Very concerned that they wouldn't find the leak be he found it. A huge relief, thank you"

Atkinson Family – West Chiltington, West Sussex

Job Number – 906912

"The engineer went out of his way to find the leak and checked everything before he left. He also gave us valuable advice for future work. I would definitely recommend ADI"

C Burfoot – SE5, South East London

Job Number – 906839

"We had a leak making a wall damp, needed special tools to find it. He used gas, audio and thermal camera to clarify the leak was no longer present and to fully check our plumbing"

All of the above testimonials are verifiable.

Now you have seen what other customers have said about us, isn't it time you gave us a call on 08007313843

Water leak Detection FAQ's

Which water leaks can you find?

We specialise in locating water leaks under floors, on central heating systems, on water mains, hot and cold water feeds. The list is almost endless, but if you have a water leak in a property then we should be able to help you – Simply give us a call on 0800 731 3843 to find out.

Are you able to locate an external water leak?

We have a specialist crew who pinpoint the location of external water mains leaks every day. Using a complete range of specialist leak detection tools, equipment and expertise we are able to accurately locate water on long and short stretches of water mains.

Are you able to repair my leak once you have found it?

Our team are all highly experienced plumbing and heating engineers, many of whom have been tracing and repairing water leaks for many years.

We are on most occasions able to provide a repair service for your water leak once it has been located, this will however depend on the exact location of the leak along with several other factors

Do you have any testimonials for your leak detection service?

Yes, we have over 140 reviews on Which trusted traders with a glowing 4.6 star out of 5 rating!

I am a landlord and my property is elsewhere in the UK, are you able to help?

Sure, we serve the majority of the UK from our base in High Wycombe, Buckinghamshire and via our network of engineers nationwide.

How can I enquire and have you come solve my problem?

Call one of our small & friendly team on 0800 731 3843 and they will be sure to listen to your problem and you will discover if we can help you.