Water Leak Detection Specialists In Swindon
The Solution When A Plumber Can't Find Your Water Leak!
The Professional Approach
To Dectecting & Repairing Your Leak
We Aim To
FIND AND REPAIR YOUR LEAK ON THE SAME DAY
Are You Concerned That You Might Have A Hidden Water Leak?

We Aim To Find & Repair Your Leak In Swindon On The Same Day!
ADI Leak Detection is the original specialist Leak detection company in the United Kingdom, and we will get to the bottom of the problem for you quickly. Worrying is not going to solve the problem, taking action is.
Watch Our Video & Discover How We Can Help You...
No matter if your water leak is on a Central Heating System, Water Mains, Hot or Cold Feed Pipe, Swimming Pool or if your boiler is losing pressure then we are ready to help…
Central Heating Leak Detection
A leak in your central heating system can cause a range of different problems, and is one of the most common issues that householders have to deal with. We use a range of tools and our extensive knowledge to find the source of your leak fast. Check with your house insurance but in most cases our Trace and Access service will be covered by your policy.
Trace and Access
If you have been searching for a leak detection company, the likelihood is that you have come across the terminology trace and access. Trace and access is an industry term which describes the part of your insurance policy, which covers any water leak detection work. Once you have confirmed that you have Trace and Access coverage included in your policy (most do) then you can call ADI Leak Detection safe in the knowledge that there will be minimal cost implications to you.
Low Boiler Pressure
Does your boiler constantly stop working and show a low pressure warning? Are you fed up living in a house with central heating which rarely seems to work? Then it is highly likely that you have a leak somewhere in your central heating system. Using a range of specialist tools, we can and will find the leak. Once the leak has been found and repaired you can enjoy coming home to a warm cozy home, to enjoy some well earned family time.
Swimming Pool Leak Detection
Worried about a swimming pool leak? Not sure where to even begin looking. ADI have their very own specialist leak detection swimming pool engineers. Whether the leak is in the pool, the filtration system, or around the poolside our PADI scuba diving will be able to find your leak. We regularly find the leaks that have defeated other companies for years. We don't just find leaks, we understand how they develop and put that knowledge and expertise into action to deliver unbeatable results. If you love your pool, and are fed up with the constant leaks, then our swimming pool leak detection service can solve the problem for you once and for all.
Underground Water Mains Leak Detection
An underground water mains leak can have catastrophic results due to the sheer volume of water that can be released even over a short period of time. Many people mistakenly think that because its mains water, that the responsibility lies with the water company. Unfortunately if the source of the leak lies within your boundaries, then it is your responsibility. If you think you need a water mains leak detection service then call ADI Leak Detection today!
Underfloor Heating Leak Detection
Underfloor heating is viewed by many as one of the best luxuries money can buy. Its impossible to describe the feeling of a warm floor underfoot when you step out of bed on a cold winters morning. However, when your underfloor heating springs a leak it can be a disaster. Trying to locate where in all the pipework a small leak is coming from can be a frustrating and stressful experience, especially when you know that the longer the leak lasts the more damage is being done. ADI Leak Detection specializes in complex cases that defeat the other companies. We have helped to find leaks in thousands of underfloor heating systems. Call us now, and we will find the source of your leak today.
Drainage Leak Detection
Drain leaks can cause bad odours and water damage to your property, not to mention being particularly troublesome to find.

Underground drain leaks can be very costly to resolve and that is why you need ADI to locate the leak without causing unnecessary damage to your property.

Our drainage leak detection & survey experts provide a complete internal & external CCTV inspection aimed at identifying the exact location where your drain is leaking.
ADI Leak Detection - FAQ's
How much does your water leak detection service cost?
Finding the source of a leak can be a long and extensive process. We have a simple pricing policy where we charge a set price for the entire day. This means that our engineers are under no pressure to finish the job quickly and can take their time and do the job properly. Call us today for a free no-obligation quotation.
How long does the leak tracing process take?
As mentioned above a leak could take ten minutes or ten hours to find. We also ensure that the system is fully tested after repair and before we leave, so you can book us with complete confidence. Our focus is on doing a good job and delivering a positive outcome, not on completing the job as quickly as possible.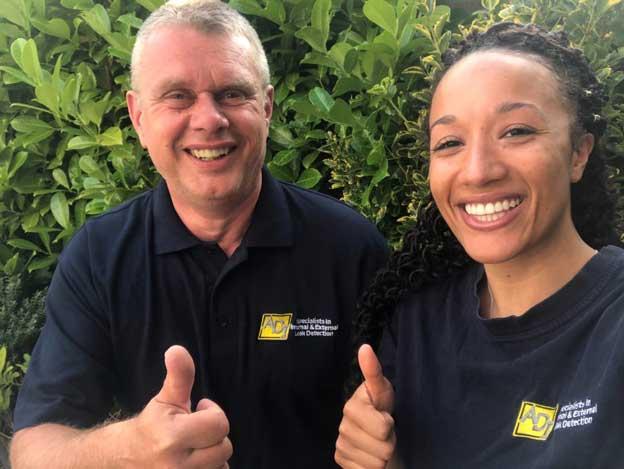 What are the benefits of professional leak detection vs a local plumber?
A local plumber does not have the necessary skills, expertise or equipment to find most hidden leaks. The challenge with a hidden leak is not in repairing the leak, but in finding it in the first place. At ADI all of our staff have the knowledge, expertise and equipment to find your leak, no matter how small.
What can you detect water leaks under?
We can detect leaks under pretty much everything - soil, concrete, flooring, tiling, walls, even in swimming pools. We also love a challenge and finding the solution - simply put if you need to find the source of any leak ADI is the company you have been looking for!
Which Specialist Equipment Do You Use To Find A leak?
This will depend upon the suspect leak source and the symptoms of the leak - however our leak detection engineers carry a comprehensive range of specialist leak detection equipment including: thermal imaging cameras, acoustic listening devices, tracer gases, snake cameras, moisture detectors and many more tools!
Water Leak Detection Near Me In Swindon
| | |
| --- | --- |
| SN1 | Swindon town centre south of the railway line, Old Town, southwest suburbs |
| SN2 | Swindon town centre north of the railway line, inner suburbs to the north and northwest including Upper Stratton and Kingsdown |
| SN3 | Swindon east suburbs, Stratton St Margaret, South Marston |
| SN4 | Royal Wootton Bassett, Clyffe Pypard, Broad Town, Broad Hinton, Wroughton, Chiseldon, Liddington, Wanborough, Hinton Parva |
| SN5 | West Swindon, Lydiard Millicent, Purton |
| SN6 | Highworth, Cricklade, Shrivenham, Watchfield, Ashton Keynes, Ashbury, Bishopstone, Castle Eaton, Hannington, Idstone, Marston Meysey, Leigh |
| SN25 | Swindon outer north suburbs including Haydon Wick and Priory Vale; Blunsdon St Andrew |
| SN26 | Blunsdon |
The
ADI Leak Detection
Head Office is based in High Wycombe, Buckinghamshire which supports our network of
home based leak detection specialists
across the UK.
About Swindon
Swindon is a large town in Southwest England that lies between Bristol. This town is surrounded by some of England's countryside and very famous attractions. This town is thriving and known for its hidden gems. The town is about 114 km west of London, and the population was about 185,600 in 2011.
Early History 
The town of Swindon started as a Saxon village. Its name was from the Saxon words "swine dun", which means a pig hill. At the time, the town of Swindon was just a small village, but in the late 13th century, it grew into a small town.
On the 1st day of April 1997, the town was known as the Borough of Swindon, after creating the new Unitary Authority. It replaces the Thamesdown name, and during the 1990s, the town was extended northwards into the neighbouring parishes of Blunsdon St. and Haydon Wick.
What is Swindon Famous for?
Swindon is known as a contemporary town surrounded by England's famous attractions and countryside. It was enriched with gardens and Victorian parks, and museums like the Steam Museum. The town is also known for its art galleries, where artists can't just get enough.
The town of Swindon is where you can always take time to wander to the alleyways and quiet courtyards. You will love the vibrant mix of pubs, traditional shops, cafes, and bars with your friends and loved ones. It's also ideal for shopping, as the town centre is pedestrianized to offer a shopping experience both indoor and outdoor.
Best Places to Visit in Swindon 
There are a lot of things to do and visit in Swindon. You can experience energetic art scenes with lots of events throughout the year. You may visit the Lydiard House, which is known as a stylish Georgian house set in the rolling parkland.
You may also discover the historic Great Western Railway at the STEAM Museum and learn about the history of different gadgets at the museum. More so, you can visit the farm parks nearby or the craft villages at the Studley Grange.
Attractions to visit in

Swindon
| | |
| --- | --- |
| Lydiard Park | Lydiard Tregoze, Swindon SN5 3PA, United Kingdom |
| Shaw Forest Park | Swindon SN5 5PQ, United Kingdom |
| Swindon Museum & Art Gallery | Bath Rd, Swindon SN1 4BA, United Kingdom |
| The Museum of Computing | 6-7 theatre Square, Swindon SN1 1QN, United Kingdom |
| Coate Water Country Park | Marlborough Rd, Swindon SN3 6AA, United Kingdom |
| Stanton Country Park | The Avenue, Stanton Fitzwarren, Swindon SN6 7SF, United Kingdom |
| Butterfly World & Farm Park | Studley Grange Craft Village, Hay Ln, Stanley, Swindon SN4 9QT, United Kingdom |
| Mouldon Hill Country Park | Swindon SN25 1WH, United Kingdom |
| Queens Park | 160 Drove Rd, Swindon SN1 3AG, United Kingdom |
| The Town Gardens | 36 Quarry Rd, Swindon SN1 4EN, United Kingdom |
What others have to say about our water leak detection service
Frank was professional, knowledgeable and helpful Frank arrived on time and was very professional, knowledgeable and I was confident in his abilities. He worked for long hours on a very challenging leak detection, found the source of the leak and repaired it, with minimal disruption to the house. I felt he was very trustworthy, with excellent knowledge of his subject, explaining the problem in a friendly manner and answering our questions as we needed.
Fantastic service. Very professional and friendly. Matt located and fixed the leak and was a pleasure to deal with. Highly recommended.
Great service provided by Frank, turned up on time and was very efficient finding and fixing the leak in pipes under concrete. He even added some automatic air vents in the loft and rebalanced the heating system. Very happy customer.
Paul was professional and friendly. Resolved the issue swiftly and went over and beyond to ensure the boiler was working efficiently. A great service. Highly recommended.
We had a leak in our swimming pool which our regular pool firm had been unable to find. Conor and Matt checked the whole pool and managed to find and resolve the leak. Would highly recommend them.
Great professional service from initial phone call to book engineer, through to the detailed report produced for the insurance company. Matt, who came to our property to confirm, locate and repair the leak (identified on our water bill) was professional and knowledgeable. He fully explained what he was going to do and why and spent time and care removing paving to fix the problem, so that it could be re laid. Really pleased with this company and their services, would definitely use again, but hope we don't need to!
Called ADI out to trace leak under dining room floor. Gabor was very methodical and thorough in finding the leak without causing excessive damage to the tiled ceramic floor over a concrete screed - as a result only one tile had to be broken to get at the leaking joint. Joint replaced and heating back up and running the same day
Our boiler was dropping pressure regularly. Contacted ADI and spoke with Monique who was very helpful and knew exactly what she was talking about. They were able to send out an engineer within a couple of days. Grant came on time and was very knowledgable and friendly. Talked us through exactly what he was doing and was able to detect the leak very quickly. The only downfall was the price!!
Adam was very knowledgeable, found and fixed the leak.
Due to a water meter being fitted in my home it made me aware of leak under floor I was so pleased and couldn't thank Paul the engineer from ADI leak dection enough for the service he provided he really did go above and beyond from start to finish. He arrived at the approx appointment time and clearly understood the situation I was in my husband is currently having chemotherapy and the least disruption needed to be followed hense to say he detected underfloor leak with no disruption to floor and managed to stop it. I am so grateful to Paul and wouldn't hesitate to use his service again
Choose ADI Leak Detection – The Water Leak Detection Experts In Swindon
ADI Leak Detection is the original specialist leak detection company in the United Kingdom. We have trained engineers located across the length and breadth of the county, and have thousands of positive reviews and testimonials from relieved and delighted clients. When it comes to leak detection in Swindon don't take any risks with your property – call ADI today!