Water Leak Detection Stretford - Central Heating, Water Mains, Swimming Pools & More!
ADI Leak Detection provide a completely non-invasive leak detection service to clients throughout Greater Manchester, including Stretford, using state-of-the-art detection equipment such as:
Natural Gas Leak Detector
Moisture Detectors
Pipe Tracing Equipment
Thermal Imaging Cameras
Acoustic Leak Detectors
Snake Cameras
When ADI engineers are conducting a leak detection survey they're using some of the most advanced equipment you'll have seen. We can find leaks behind walls and buried deep underneath floors and all of this happens with us causing almost no disruption to your home or business. We do our best to work efficiently and quietly and to also offer you excellent value for money for the services that we offer.
You can engage the services of ADI for any of the following:
Industrial and Commercial Leak Detection
Insurance Related Projects
Residential and Domestic Leak Detection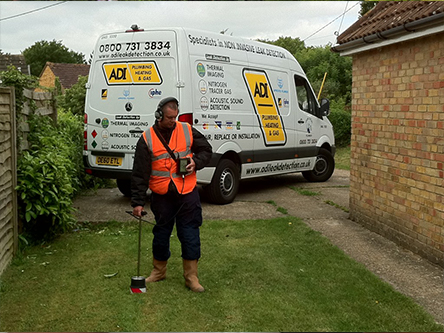 ADI engineers have to undergo one of the most stringent training programs in the industry before they get to work on actual client sites. This means that you can call our engineers safe in the knowledge that they're ready to work on:
Leaks Inside Walls
Central Heating Leaks
Pipe Tracing
Leak Detection in Stretford
Our skilled specialists are ready to help clients in Stretford or nearby areas like:
Water Leak Detection Throughout Stretford
This historic market in Trafford is a great place. It has great structures. To begin with, the area has the Longford Cinema. It is opposite Stretford Mall, and it is the greatest building in this area. There is also the Great Stone which led to the naming of Great Stone Road. However, this is a landmark that is often overlooked, yet it still rocks. This rectangular-shaped stone is made of millstone grit which was likely deposited as a glacial erratic. Stretford Cenotaph is a memorial that honors the 580 men who perished in the First World War. A bronze plaque on this landmark has a list of their names and their regiments. It was incepted in 1923. In the same area, we have the Gorse Hill Par and the Longford Park. Longford Park, the largest park in the area, is publicly offered and is based in Greater Manchester. It is a wide park that sits on 22 hectares of land. Apart from the parks, there are mother major living areas with good. Thus, new home buyers and traders find it easy to lead any kind of lifestyle in this area. Besides, visitors have good outdoor spaces, parks to visit, and awesome eat-outs to enjoy local cuisines.