Buildings Insurance And Water Leaks
There are a number of essential elements which come with owning a home, and buildings insurance is a major consideration. This is a type of insurance which generally covers any costs associated with repairing damage to the overall structure of your property, including external outbuildings such as sheds, fences and garages, as well as drains, pipes and cables.
In most cases, the insurance will also cover costs of site clearance, demolition and architects fees in the event that your house requires a full demolition and rebuild.
What Is Covered By Building Insurance?
Building insurance is wide-ranging, and can cover a range of situations, including loss or damage caused by the following:
Theft or attempted theft
Vandalism, or attempted vandalism
Subsidence
Frozen or burst pipes
Collision by vehicle or aircraft
Fire or explosion
Storms
Floods
Earthquake
Natural disaster
Fallen items such as lampposts, aerials, trees or satellite dishes
What About Water Leaks?
Water leaks are a sadly all too common hazard that may not be covered by your insurance, and which has the potential to cause significant damage to your interior and property.
It is crucial that you check your policy carefully; some clauses may actively exclude damage from water leaks, and any claims which are related to this.
Alternatively, there may be exclusions and exceptions; the company may cover the cost of removing parts of your building in order to investigate a leak, but they may not pay for everything to go back together once the leak is repaired.
If you have a hidden water leak then you will need Trace and Access Cover in order to be able to claim back the cost of tracing and accessing the leak. Another area of insurance to be considered when it comes to a water leak in your home is Matching Set Cover.
What Are The Common Causes of Water Leaks?
Water leaks on your property may be caused by a number of issues, including:
Frozen pipes
Broken radiators
Faulty boilers
Incorrect installation of dishwashers or washing machines
Damage to baths and showers
Damage to storage tanks
Poorly maintained roofs, or those that are damaged during a storm
You should note that some policies will not cover you if damage is caused by general wear and tear; for example, a pipe you know has been damaged, a roof tile you should have repaired, or a radiator leak which you chose to ignore.
Will My Contents Be Covered In The Event Of A Water Leak?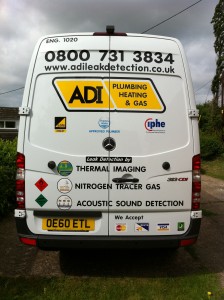 Sometimes, water leaks can cause serious damage to internal furniture, decorations and items, including electrical goods, sofas and personal items. In some cases, you will need to take out extra contents insurance in addition to building insurance; the latter may not automatically cover this damage if it is caused by a water leak.
Once again, knowing your policy is crucial here; in addition to contents insurance, you may also need accidental damage cover. In addition, different companies may differ in their offerings; some may offer cash, while others will require you to accept a like-for-like replacement.
Do I Need an Emergency Cover?
As we mentioned, some buildings insurance policies may require you to take out emergency cover as an extra; this can cover you for things which are urgent, or may leave you stranded with no light, heating or water, as well as risking serious damage to property.
Water leaks definitely fall under this category; what starts off small can quickly escalate, and you may find yourself facing hefty repair bills if the situation is not quickly addressed.
Emergency cover can be a real asset to your building insurance policy; if you are covered, the provider will send out the contractor for you, saving you the headache of multiple phone calls, and they will diagnose and repair the issue, as long as you are eligible. Burst pipes and leaking radiators are the most common culprits.
How Can ADI Leak Detection Help With Your Hidden Water Leak?
Here at ADI Leak Detection, we are specialists when it comes to finding hidden water leaks and our fees are normally covered by your home or buildings insurance under Trace and Access.
Watch our video below to understand more about how we are able to non-invasively locate your leak…
Water Leak Detection Services UK - Leak Detection London
Call ADI Leak Detection now on 0800 731 3843 for help tracing your water leak.