Water Leak Detection Berkshire - Central Heating, Water Mains, Swimming Pools & More!
At ADI we've been providing Water Leak Detection in Berkshire, London, and right across the United Kingdom for over a decade now. In that time we've been called to deal with leak problems on all kinds of domestic and commercial properties and seen how badly it can backfire when property owners assume that their water leak isn't that serious.
Moisture Detectors
Thermal Imaging Cameras
Nitrogen Hydrogen Gas Tracing
Acoustic Leak Detectors
Pipe Tracing Equipment
Snake Cameras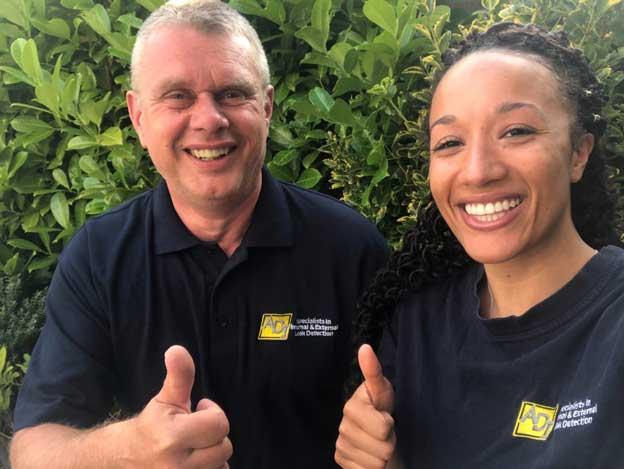 Because our engineering teams have access to ultramodern leak detection technology it means they can work in a highly efficient and extremely cost effective fashion.
Our engineers are able to locate the source of more than 98% of internal and external leak on your property within a single working day. This means you're billed for far fewer hours and as a result you get great value for money from us.
You can hire ADI engineers to work on:
Domestic and Residential Leaks
Industrial and Commercial Leaks
Insurance Related Projects
To be an ADI Leak Detection specialist means that you're among the most highly trained and qualified people in your field in the United Kingdom. It also means that our engineers are fully trained and capable of dealing with:
Leaks Inside Walls
Water Mains Leaks
Swimming Pool Leaks
Leaks Under Floors
Pipe Tracing
Water Leak Detection Throughout Berkshire
Berkshire is one of the ceremonial counties south of England. It consists of six unitary authorities to boast for, Bracknell Forest, Reading, Windsor, Wokingham, Maidenhead, and West Berkshire. One of Berkshire's finest attractions is Windsor Castle.

Windsor Castle. Windsor Castle is one of the premier destinations not only in Berkshire but also in the rest of England. It houses the next and succeeding British royal family and commemorates centuries of architectural history. It is one of the oldest and biggest castles in the world and offers a lot of things in a day. From day tours around the castle to being inspired and marveled by its architectural wonder, a visit here will instantly wrap your day up on a good note.

Windsor Great Park. The Windsor Great Park is a 4800-acre land with a series of award-winning gardens, sweeping parklands, meadows, and forest trails that are worth visiting. Majestic views from its impressive gardens surround the place, and the atmosphere around this area is just magical. A visit here means you get the best of Berkshire all in one area.
Beale Wildlife Park. Situated between the villages of Lower Basildon and Pangbourne in Berkshire, the Beale Wildlife Park is a family-friendly park capable of giving your family some of the best experiences and encounters in a day. A trip to Beale wildlife park will surely enrich your children with nature, from paddling down the river to witnessing wildlife at its finest.

St. George's Chapel. The St. George's Chapel is an architectural marvel situated in the historic Windsor castle. Built during medieval times, this castle was made in a perpendicular-gothic style and was founded during the early part of the 14th century. It has been one of the primary venues for big events such as royal weddings and burials during the late 19th century and 20th century.

Wellington Country Park. Set in a wonderfully 350-acre piece of land, the Wellington county park is a theme park perfectly made to cater to a family's need when it comes to going through various fun-filled outdoor activities. From camping, riding through their miniature railway, splash zone, soft play, and many more. A day here in Wellington county park is never enough as the things you can do in this place are unlimited.