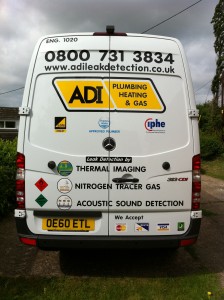 Whether your heating has gone cold, your boiler has lost pressure, or your hot water is non-existent, discovering a leak in your heating or boiler system is never top of anyone's wish list. No matter the issue, your top priority will always be getting the problem fixed as quickly and painlessly as possible – and this means finding qualified, experienced and trustworthy professionals who can detect the source of the problem, and provide a solution in no time. Fortunately for you, ADI Leak Detection is on hand to tackle the problem.
With plenty of years of experience in the industry, a team of qualified, experienced engineers, and access to industry-leading leak detection technology, there are plenty of reasons to leave your system in our capable hands. We will take care of the headache, leaving you to simply enjoy your home in comfort. But just why should you choose us? Read on to find out…
Experienced Leak Detection Engineers
We pride ourselves on offering a top-quality job every time, and this is achievable thanks to our team of qualified, experienced engineers. Every member of the ADI Leak Detection family is fully qualified as a plumber, or a Gas Safe registered gas engineer, and are fully insured. Each member has a strong background working in the industry. Our engineers are skilled at detecting and sourcing your leak as quickly as possible and implementing a fast, effective solution that gets you back on track. As an added bonus the company is CIPHE registered for your complete peace of mind.
Nationwide Leak Detection Service
You can enjoy access to our skilled technicians no matter where in the country you may be; we offer a fully nationwide service. This also means that you will not be left waiting for hours when you need assistance; a member of our skilled team will be on hand in no time to get your system working as it should. Our years of leak detection experience allows us to provide expert advice on drying a floor after an internal water leak.
Industry Leading Leak Detection Technology
Once the engineer is on-site, there is a range of options available to help them identify the source of the leak – without the need to start digging up flooring or removing decorations. Instead, our methods to detect leaks in your system include the following:
Thermal Imaging Cameras – these tools help to identify spots of damp which could be a warning sign, as well as any warm patches which could find a leak, as well as following the trail of pipes to go straight to the source.
Acoustic Listening Devices – we also use specialist acoustic devices to allow us to hear the source of leaks – the tech means that we can identify leaks occurring 2.5m below the surface. This means minimal disruption or damage.
Tracer Gases – this is a blend of nitrogen and hydrogen, which is forced into the pipework at safe working pressures. This combination allows water leaks to be detected – the smaller molecules weigh less than water, allowing them to be confused with helium. This makes finding the leak a simple, smooth task.
Leak Correlators – these are perfect for finding leaks on underground water mains and use electronic pulses to cover a large surface area and pinpoint the exact location of the leak, saving time and energy, and allowing water mains leaks to be tackled quickly.
Our Leak Detection Reviews
As a company, we are proud of the engineers that we employ and the services they provide in our client's homes every day. This selection of Leak Detection Reviews from last year gives an insight into what those clients thought of us and our services.
Call Us Today.
If you need assistance with leak detection in your central heating, underfloor heating, water pipe, swimming pool, filtration system or spa, we are the team you need onside. Our skilled team, top quality tech, and attention to detail will ensure that your leak is taken care of in next to no time. Get in touch today, and allow your water nightmares to be a thing of the past – leaving you free to simply kick back, relax and enjoy your home in comfort.