Unless You Stop That Water Leak Under Your Home The Costs Could Be Enormous
Over the past 10 years in the plumbing industry ADI Leak Detection have had the privilege of working with and meeting people from all over Leicestershire, including many of the residents of Coalville.
We've worked with many businesses and on many homes in the area and we've seen just how much financial, structural and emotional damage an underground or central heating leak can cause to a family or business.
Ignoring your water leak isn't going to make the following problems simply go away either:
An underground water leak can cause soil erosion which could results in subsidence issues on your property
Your water bills costing more than you imagined possible for one property
Dampness can lead to fungal growths and the spread of spores which can cause respiratory problems in the vulnerable
Rot, damp and decay create perfection conditions for insects and vermin to breed in
You can relax now though because at ADI Leak Detection we can offer you a full range of advanced, non-destructive, leak detection and leak repair solutions for your business or residential property – especially in relation to sub floor, central heating or underground water leaks.
You also have the reassurance of knowing that each member of the ADI team is fully qualified, highly skilled and also fully insured – we take pride in minimizing the disruption caused to your home.
We use 4 distinctly different ways of tracking down the source of any leak and because our methods are non-invasive you don't need to worry about mess, fuss or a big cleanup bill when we're done.
Thermal Imaging Cameras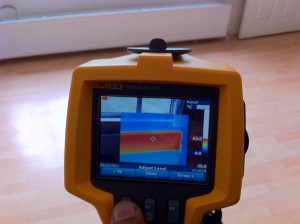 Our thermal imaging technology allows us to find the types of hidden leaks that are missed by other companies, we never need to use guesswork in what we do
Acoustic Leak Detection
Even with leaks that are buried under several feet of compacted earth these sensitive leak detection devices can locate a leak to within 2-inches of its location
Gas Tracing
Our tracer gas systems use a combination of a special inert gas mixture and gas detectors for leaks that are invisible to the naked eye, and again this is a non-invasive way of finding leaks
Leak Correlators
If we suspect you have multiple leaks on one pipe or a leak spread across a large area then our leak correlation sensors and software can help track down these types of leaks with an incredible level of accuracy.
At ADI Leak Detection we focus on leaving your property intact when we're finished finding and repairing your leak – you won't be left with the type of cleanup or repair bill totally thousands that you could expect from more "traditional" leak detection companies.
Here's a selection of feedback from some of our previous customers:
:
Prompt and professional help from an ADI Leak Detection engineer is only a FREE phone call away now on 0800 731 3843 – let us add value to your day!