If You Want To Prevent Unimaginable Damage To Your Property You Need To Have That Underground Leak Fixed Now!
At ADI we're always amazed to see how many property owners simply turn a blind eye to the first sign of a water leak – this includes business people as well as home owners. We've seen this happen over and over again in our decade of operating a national plumbing and leak tracing business for our clients in Kirkby and throughout the rest of the United Kingdom. Pretending a leak doesn't exist is never going to fix the problem and can only lead to an expensive disaster for you.
If you're trying to ignore your water leak then you need to be aware of the following:
If the soil under your property is being eroded by the leak there's an increased risk of property subsidence
There will be extensive cosmetic and structural damage to your home
There's an increased risk of health problems from the spread of moulds and fungi
There's a risk that your insurance company will refuse to pay for the damage – it's often seen as "wear and tear"
Regardless of what type of leak you're dealing with at the moment the team at ADI Leak Detection can offer you a complete range of leak detection and leak repair solutions to help make that leak a thing of the past. Every ADI leak specialist has been trained to a very high level and is also fully insured to carry out this type of work.
Each ADI Leak Detection team has access to the following range of modern leak detection systems:
Visual Scanning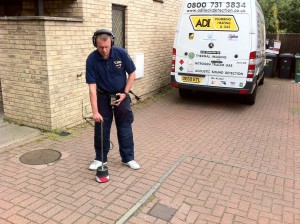 These cameras can detect the hot and cold patches that are the first sign of a water leak – even though they're hidden inside your walls
Acoustic
Tracing leaks underground can be quite difficult but our acoustic leak sensors can find leaks that are buried under 2.5 metres of soil
Tracing Gas
We fill your plumbing or water system with a special gas that is then detected by our gas sniffer units as it leaks out through any holes or cracks
Correlators
The Ferrari of leak detection – this is a mixture of multiple electronic sensors and advanced computer software that never fails to find a leak
When you hire ADI Leak Detection you're hiring a team of specialists where guesswork is never a part of what we do – we always know exactly where your leak is before we fix it.
Some more proof of how happy our customers are with us:
Call ADI Leak Detection now on 0800 731 3843 – our team of friendly, knowledgeable and professional leak detection engineers are waiting to take your call.