Unless You Want To Have An Underground Water Leak Disaster On Your Hands You Need To Have That Leak Repaired
A lot people reading this will have a habit of leaving things to the last minute and if that's about booking holidays or buying birthday presents that's fine. But when it comes to having ADI find and repair that leak for you waiting until the last minute could cost you a small fortune in water damage to your home or business in Huyton – damage that could have been prevented by calling ADI just that little bit sooner.
Even if you pretend that you don't have a serious leak problem there are still risks like:
Health issues, including respiratory issues, from the spread of moulds and fungus in your property
Water bills that become too expensive for anyone to pay
Providing ideal breeding conditions for all kinds of insects and other vermin
Serious cosmetic and structural damage to your property
When you call ADI Leak Detection it won't matter what type of leak you have – we can handle it because we have all the tools and training to undertake any leak repair project. You'll also be pleased to know that each of our engineers is covered by a comprehensive public liability insurance policy too.
Each of the ADI teams carry the following types of equipment with them:
Leak Correlators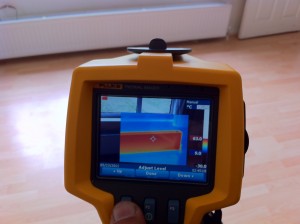 Our leak correlation system uses multiple electronic sensors and computer software to give us an exact location on leaks in large areas
Thermal Imaging Cameras
When we need to scan for the first signs of a water leak, cold and hot patches, in your home we deploy our thermal imaging cameras
Acoustic Leak Detection
Our acoustic leak detectors can trace the noise from a water leak even if it's buried up to 2.5 metres underground
Gas Tracing
Our engineers pump a nitrogen-hydrogen gas mixture into your pipework and our gas sniffers then pick up the tracing gas as it leaks out in different places
ADI Leak Detection offers you a completely non-invasive leak detection survey and our engineers only excavate once they know exactly where your leak is.
We have lots of similar testimonials on file in your head office:
You can stop any further damage to your property or expense to yourself by calling ADI Leak Detection now on 0800 731 3843.