An Underground Water Leak Can Cost You A Small Fortune And Put Your Family's Health At Risk
At ADI we've been part of the UK leak detection industry now for a long time and in our work in and around Derbyshire we've seen the personal stress, emotional strain and financial damage that serious internal or external water leaks can cause to a home, business or investment property.
Most people have no idea just how serious a water leak can be and to make matters worse most people don't realize they have a leak in the first place or that it can lead to the following:
A shockingly high water bill because you're literally pouring money down the drain
The distinct risk of subsidence in your paths, drives, garden or even your home itself
Stagnant water or damp conditions creating ideal breeding grounds for all kinds of flies, insects and bugs
The growth of fungus and other bacteria exposing the young and elderly in your family to unknown health risks
Internal rusting of your central heating pipes because they're constantly being filled with water – eventually to the need for costly replacement parts
Water damage to your floors and walls can cost thousands to put right
The waste of thousands of gallons of clean drinking water per year
The good news is that the leak detection engineers here at ADI stand ready to help you with find and resolve any type of leak that you have. We have the experience to provide a complete range of repair and preventative solutions so you can stop further water damage until we reach you and because we only hire the most highly trained plumbers and engineers you're assured of a very high quality of service every single time. We also carry out a complete survey of your home to ensure there are no other leaks present, giving you complete peace of mind in the process.
We employ four separate ways of detecting the precise source of the leak you're worrying about and all of this work is done non-invasively, which means that we don't need to dig or drill any holes. When we locate the exact source of your leak only then do we excavate any section of your floor, garden, driveway or path which keeps the disruption and mess to an absolute minimum.
Thermal Imaging Camera Leak Detection
These advanced pieces of technology can detect any hot or cold patches in your walls or under your floors which are a dead giveaway for the source of a leak. These cameras can literally see through walls so take all the guesswork out of finding your leak.
Acoustic Leak Detection

These highly sensitive devices can detect the source of a leak up to 3 metres underground so any internal or external leaks can be traced with incredible accuracy – all guesswork is eliminated as a result of using this type of technology.
Tracer Gases For Leak Detection
To find the tiniest of leaks we use non-explosive tracer gases to filter through your pipes and escape through the holes, where our gas sniffers are ready to detect the escaping gas and pinpoint the leak.
Leak Correlators
The latest addition to our arsenal uses electronics to detect the noise coming from a leak and then uses electronic pulses to calculate the distance from the correlator to the source of the leak. Leak correlators are ideal for detecting leaks spread across an area of up to 600 metres. So leaks in driveways, airports, car parks, fields, farms and commercial units are no problem at all.
Because ADI engineers and plumbers work so efficiently this means significantly lower billing for you at the end of the day.
Our customer testimonials speak for themselves:
Mr Suter – Storrington, West Sussex

Job Number: 906794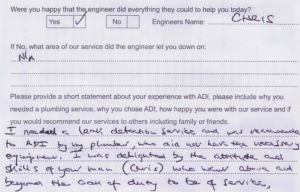 Dear Adrian
After completing his work at my home yesterday, at the unearthly hour of 19:30 – some ten hours after his arrival – Chris asked me to complete and return the attached questionnaire.
I have to say that the standards of service, attitude and behaviour, not to mention the required skill sets, were well above the levels that one has come to expect these days and I would have no hesitation in recommending him and your company to anybody seeking similar assistance.
I hope that you can decipher my handwriting OK!
Kind regards
Ian Suter
Miss Bick – NW6, Kilburn, North West London

Job Number: 906278

"Very helpful, punctual, friendly - Jedi skills outstanding!"

Miss Joili – Pinner, Middlesex

Job Number – 907116

"ADI have good information & reviews and were willing to help with our insurer when we claim"
Now you know how we can help you, what some of our previous customers have said all that is left for you to do is call our Leak Detection office on 0800 731 3843 – we will handle the rest!